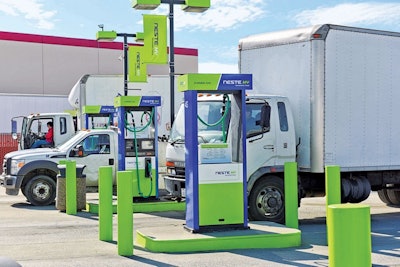 Neste
Market forecast reports are indicating a large uptick in renewable diesel production in the U.S. as most of low-carbon fuel continues to be confined to California.
The Department of Energy reported that renewable diesel production could more than double by the end of 2025 "based on several announcements for projects that are either under construction or could start development soon."
Major energy companies, including BP, Chevron, Marathon, Phillips 66 and Shell, have announced or already added renewable diesel production to a growing line-up of carbon-cutting fuels. Diamond Green Diesel continues to dominate production in the U.S. with one plant in Texas and another in neighboring Louisiana with Marathon quickly closing in for the No. 2 spot.
According to the 2022 State of Sustainable Fleets report from Gladstein, Neandross & Associates (GNA), Marathon is "converting a refinery in Martinez, California, which is slated to become the second-largest renewable diesel facility in the U.S." this year with annual production capacity anticipated at 730 million gallons.
The DOE reported that U.S. renewable diesel production reached 2.6 billion gallons in 2022, and by the end of 2025 they think production could reach 5.9 billion gallons a year.
[Related: 'No silver bullet' in tomorrow's powertrains]
Drawing on recent data, GNA's vice president of market development, Nate Springer, said they expect to see renewable diesel production ramp up fast.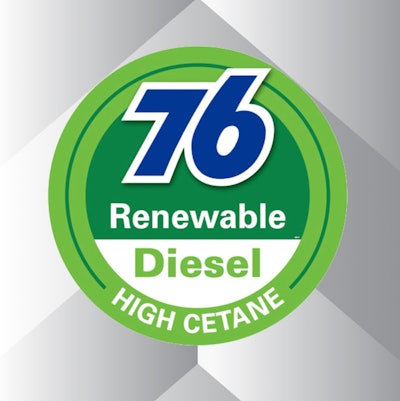 "GNA's analysis of LCFS [Low Carbon Fuel Standard] data from the first three quarters of 2022 in California reveals that RD made up 83% of all bio-based diesel consumed in transportation," Springer said. "We believe that national RD production has at least doubled in the past year, and we expect the industry will hit its 2025 goal early of 5-billion-gallons in annual capacity.
"California will continue to be the biggest consumer given its LCFS market, and RD is very likely to continue to displace fossil-based diesel and become an even greater share of renewable fuel use in the state in the near term despite low LCFS credit prices," Springer continued.
Nearly all renewable diesel availability remains in California.
Of the 575 stations in the U.S. offering the fuel, 573 of those, according to the DOE, are in the Golden State while the remaining two are in Oregon. Western Washington Clean Cities Coalition reports on their website that while renewable diesel is not readily available in Washington State, it's an "emerging fuel" currently being used at the Port of Seattle and Tacoma Public Utilities.
A number of factors are fueling renewable diesel's fast growth. In a recent study on renewable diesel, the University of Illinois reported that production "is booming, driven by federal and state policies, including the Low Carbon Fuel Standard in California."
[Related: Renewable natural gas delivering 'massive tailwind']
This past summer renewable diesel use in California surpassed biodiesel consumption for the first time and has maintained a steady rise since as biodiesel market share in the state continues to decline.
Production growing but availability limited
Energy companies are stepping up production efforts with the backing of the Biden administration, according to Diesel Technology Forum executive director Allen Schaeffer.
"Government incentives contained in the Inflation Reduction Act of 2022 extended biomass-based diesel tax credits through 2024, driving new investment in new renewable diesel production capacity nationwide," Schaeffer writes in his blog at dieselforum.org.
In California, both federal and state LCFS incentives have mostly kept the price of the fuel below conventional diesel.
The average price per gallon of conventional diesel in California was $5.31 on Monday according to AAA. While AAA does not track renewable diesel prices, prices for the fuel at retailer Propel were $4.69 per gallon or 13% less than conventional diesel at locations in Southern California.
Federal and state funding for renewable diesel stems from the fuel's impressive emissions performance. The California Energy Commission reports that it "can reduce carbon dioxide emissions by 61% to 83% depending on the feedstock used."
Fleets have long reported on performance gains from the cleaner-burning fuel, which according to the DOE has a cetane value at 70 or higher versus 45 to 55 in traditional diesel. Higher cetane values equate to more thorough combustion.
Penske Truck Leasing recently told Commercial Carrier Journal that since switching all of its trucks in California to renewable diesel the company has seen operational costs drop to roughly two cents per mile, owed mostly to a decline in the amount of required regens for diesel particulate filters. They've also seen an uptick in power.
Fleets interested in using the fuel outside the West Coast, however, are in for a wait. How long is anyone's guess. Available supplies in California, Oregon and Washington State, according to the University of Illinois' study, hinge first on incentives.
"Second, since renewable diesel plants use petroleum-refining technology, the plants tend to be located within existing petroleum refining complexes or in areas with abundant petroleum refining to ensure access to the necessary technical expertise and equipment for large-scale hydrotreating. Third, renewable diesel plants are often located to benefit from existing transportation infrastructure, such as pipelines and ports, much as existing petroleum refineries are."
Patrick DeHaan, head of petroleum analysis at GasBuddy, said it's too early to get a clear picture of renewable diesel expansion beyond the West Coast.
"We are seeing RD outside of California, but not at the same pace due to incentives. Hard to know an exact timing right now," DeHaan said. "Feedstock may be a bit of a headache since RD is still in the early innings but like everything, as the path matures it should get easier."
In a press release promoting a market forecast study on renewable diesel, ResearchAndMarkets.com reported that feedstock sources can be challenging for renewable diesel production
"Used cooking oil is a good source of raw material used for renewable diesel production," ResearchAndMarkets.com states. "Finding feedstocks to sustain production is one of the major problems the biofuel sector is experiencing. Conventional feedstocks such as soy oil are not economically viable. Animal or recycled fats and used cooking oil are the more appealing alternative feedstock."