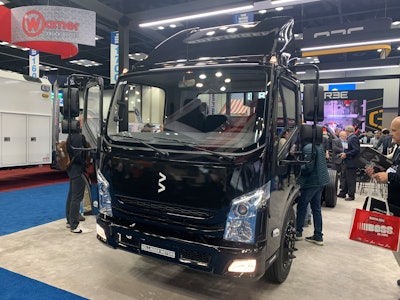 Bollinger Motors said it is inching closer to commercial production of its first-ever electric truck, the B4.
The Class 4 cabover is slated for production next year, and refined models are already undergoing testing. A Class 5 B5 model is set for 2025 release and a Class 6 B6 is expected to follow the next year.
Bollinger Motors selected Roush Industries as the contract manufacturer to assemble its line of all-electric platforms and chassis cabs for Class 3-6 commercial vehicles, and President Robert Bollinger said he expects to have the first 20 B4s by the end of next year.
Bollinger noted that testing and refinements continue on the B4 ahead of mass production, but added the company was "very close" to having production models ready, and those models would be capable of upfit with bodies of up to 18 feet.
Among the latest refinements to the B4, Bollinger Motors Chief Product Officer Kent Harrison said, is the addition of an electric PTO for vocational customers.
The Bollinger B4 is driven by a solid rear-axle e-drive for higher payloads (up to 7,000 pounds, Harrison said). High-voltage components operate on an 800-volt platform, with batteries consisting of LFP (lithium iron phosphate) chemistry, which ensures safety and reduces cost. The B4 can be outfitted with one or two battery packs to accommodate cost and range requirements.
Harrison said testing to-date has shown a range of roughly 150 miles in 30 degree temperatures. Colder temps are harder on batteries and range, but Harrison said he couldn't yet give a range estimation in fairer weather; only that it was fair to assume that it would be better (and farther) than what the vehicle achieved in cold weather.
One refinement the company still needs to sort out, Harrison said, is finding a North American cab supplier.