Trucking news and briefs for Friday, April 30, 2021:
Cargo theft numbers mostly flat year-over-year, CargoNet reports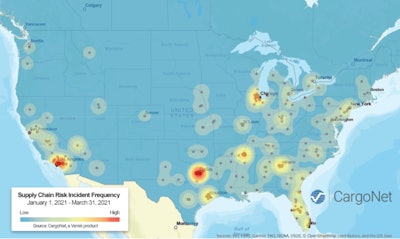 Cargo theft recording firm CargoNet is reporting similar levels of theft activity for the first quarter of 2021 as the same period of 2020. The firm says reports of industry-related fraud schemes increased, while outright theft of trucking vehicles or cargo decreased slightly.
CargoNet recorded 289 thefts or attempted thefts in the first quarter of 2021, which is a decrease from the same period in 2020. The firm says the decrease was "mostly felt in fewer theft schemes targeting truckload copper shippers in Illinois, trailer burglaries in Illinois, Pennsylvania and Georgia, and fewer full-truckload thefts in Pennsylvania." The average value per theft was $142,574, the firm adds.
Theft activity in first quarter was highest in Texas, California and Florida, and all three states reported significant increases in theft. Theft activity in Florida fell in February but spiked significantly in March, CargoNet says. This paved the way for a 26% increase when compared to first quarter of 2020 in theft activity in the state. Historically, theft was most frequent around Miami, but that trend has recently shifted to truck stops and retail parking lots in the Jacksonville, Tampa and Orlando metropolitan areas.
For California and Texas, CargoNet's analysts have worked to prevent victimization by releasing several warnings about commodities and locations of concern to CargoNet members so they can harden their supply chains to theft. The firm continues to monitor crime patterns in both states – specifically frequent attacks on truckload computer electronics shippers in Northern and Southern California. Pilferage and full-truckload theft of computer electronics shipments in California have increased 88% year-over-year.
New FMCSA-sponsored ADAS guides available
The Federal Motor Carrier Safety Administration-sponsored Tech-Celerate Now program released four videos and two informational guides that provide new safety technology information designed to improve industry awareness and to support adoption of advance driver assistance system (ADAS) technologies.
The two guides provide information on the safety benefits of ADAS, as well as return on investment expectations. The four videos describe the features and benefits of ADAS technologies related to braking, warning, steering and monitoring functions.
"Trucking industry crashes are a primary reason that motor carriers and truck drivers are experiencing double-digit increases in commercial insurance costs, even when the majority of crashes are caused by the car drivers," said Dan Murray, program co-principal investigator and senior vice president, American Transportation Research Institute. "ADAS technologies can mitigate crashes regardless of who is negligent. The direct impact is fewer crashes and lower operating costs. The materials we're releasing today will help industry stakeholders make better informed decisions on adopting proven safety technologies."
The Tech-Celerate Now program was developed by FMCSA to reduce fatalities, injuries and crashes through expanded use of advanced driver assistance systems (ADAS). The program is analyzing industry awareness and perceptions of ADAS, with the goal of increasing its voluntary adoption of safety technologies among fleets and owner-operators.
Longtime trucking ambassador Thomas Schilli passes away
A man who expanded the trucking company his father founded and who was involved in the trucking industry at the state and national levels passed away earlier this month.
Thomas Raymond Schilli, age 74, of Bonita Springs, Florida died Tuesday, April 13, at his home with his family. He died from a rare form of cancer he had fought for over 13 years.
Schilli was born on June 3, 1946, in St. Louis, to Laura Catherine and Bernard Raymond Schilli. He grew up in St. Genevieve, Missouri, until he was in middle school when his family relocated to St. Louis. Schilli graduated from St. Louis University High School in 1964. He attended Marquette University and St. Louis University and served in the Marine Corps.
In 1961, his father, Bernard, founded Schilli Motor Lines, Inc. Thomas purchased Schilli Motor Lines and relocated the business to Delphi, Indiana, in 1969. He began his career operating six tractors and a small group of owner-operators that were leased to the fleet.
The company quickly grew and was relocated in 1973 to Remington, Indiana, due to the ease of Interstate 65 between Indianapolis and Chicago. In 1972, a relationship was forged between United States Gypsum and Schilli Motor Lines, which led to the first terminal in Shoals. As Schilli began to purchase more tractors and reduced the number of owner-operators he worked with, the difficulty of hiring professional truck drivers became clear. However, his solution was to give drivers time at home with their families on the weekends.
After deregulation, Schilli began the development of a flatbed trailer that would allow a load capacity of 56,000 pounds versus the standard of 48,000 pounds. In the late 1990's, Schilli began a new company, Schilli Distribution Services, a warehousing operation that provided from assembly line to delivery to retailers worldwide operation.
In early 2017, Schilli felt a merger with Daeske, Inc., would result in a bright future for the companies he had built and a continuation of his legacy. In May of 2017, a merger was completed between Daeske and Schilli Transportation Services, Schilli Distribution Services, Schilli National Lease, and Schilli Specialized, which included 365 tractors with a combination of 750 flatbeds and vans.
In 2018, Schilli won the Truck Fleet Innovators award for what he had contributed over his career of 50 years from ultralight trailers, to the concept of home time on the weekends for drivers, and his "tiered" program for training the next generation of technicians with Schilli National Lease.
With over 50 years in transportation, Schilli was a member and served within the Indiana Motor Truck Association, Indiana Carrier Advisory Board, American Trucking Association, as well as the Truckload Carriers Association. TCA was where Thomas funneled endless hours of service over his lifetime including being 1988-1989 chairman of the organization. Schilli Motor Lines/Schilli Transportation Services was a 2010 Ambassador recipient due to their 50 years of commitment to TCA.
The pursuit of education was something Schilli held dear and he was involved in the development of the Truckload Carriers Association Scholarship Fund. Member carriers of the TCA are encouraged to have their employees' children and grandchildren apply for scholarships to help them pursue higher education.
Thomas Raymond Schilli's Celebration of Life was held on Thursday, April 29, at Bob and Connie's Restaurant in Remington, Indiana. Visitation will be held on Friday, April 30, from 6-8 p.m., at Bopp Chapel Funeral Home, 10610 Manchester Road, Kirkwood, Missouri 63122. Memorial Mass will be held on May 1, at 3 p.m., at St. Louis University High School Chapel, 4970 Oakland Ave., in St. Louis. A private burial will occur at Resurrection Cemetery, in St. Louis.
Memorials may be given to the Thomas R. Schilli Foundation, 326 Oak Tree Dr., St. Louis, MO 63119, or the TCA Scholarship Fund, Thomas Schilli Scholarship c/o Truckload Carriers Association, P.O. Box 76026, Baltimore, MD 21275-6036.
C.R. England boosts driver pay
C.R. England recently announced its largest driver pay increase in the company's history and its third pay increase since 2018.
The increase will benefit the fleet's line haul drivers in the Over the Road Division and drivers in training. The increase took effect April 22.
"I am thrilled to announce our biggest OTR pay increase in company history," said Chad England, C.R. England CEO. "This increase benefits every OTR driver that is paid mileage pay, which makes up the vast majority of our OTR fleet. It applies to drivers at every seniority level and to our current length of trip pay bands."