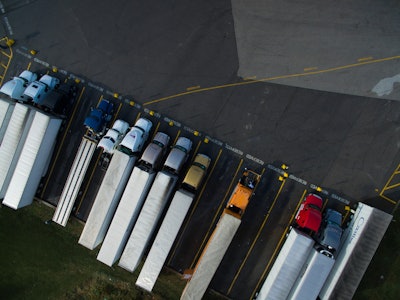 Under the federal hours of service regulations, drivers can drive up to 11 hours per day and up to 70 hours in an 8-day period.
In a typical for-hire over-the-road truckload fleet, drivers will be on the road for one to two weeks at a time before taking two to three days of home time. I bet if you were to share this information with someone outside the industry and then ask them, "How many hours per week do you think the average OTR driver drives?" you would get a really big number.
They might say, "I bet they try to max out their 70 hours as much as they can" or maybe, "I bet they try to average 10 hours per day and work an average of 6 days per week, so probably 60 hours per week."
[Related: Let excitement, not fear, drive your perceptions of autonomous trucks]
Sadly, the average driver at a large for-hire truckload fleet averages less than 40 hours/week. Among the public fleets that report this data, only a couple of fleets average more than 2,000 miles per week per truck (and those fleets have a lot of teams, so on a per-driver basis they're still averaging less than 2,000 miles per week).
The U.S. government's Bureau of Labor Statistics data for OTR truckload drivers supports this data. In recent years, the government reports 450,000-470,000 people work as OTR truckload drivers. On average, the government reports these drivers are working between 41 to 42.5 hours per week.
If we assume 10% of these hours are on-duty-not-driving hours (when drivers are doing inspections, fueling, loading/unloading, etc), then the average driver is only driving approximately 38 hours per week.
Why?
Why are so many drivers averaging so few hours of driving? Most of these drivers are not close to home. Why wouldn't they want to drive as many hours as safely and legally possible to maximize their paycheck and get back home as quickly as possible?
Some drivers may not want to drive very much, but I believe most drivers are willing to drive significantly more hours than they do today. I also believe most carriers would be delighted to increase utilization by 25% or more. There's no shortage of freight in today's market, so why is the average driver still driving less than 40 hours per week?
This is a complex problem, and the reasons will vary from carrier-to-carrier, from driver-to-driver, from load-to-load and from day-to-day. Not enough freight, poor scheduling, loading/unloading problems, equipment issues, etc.
What should we do?
To begin improving, consider measuring and reporting on driving hours per driver per week. This data should be easy to obtain with everyone now on electronic logs.
Next, your team will need to dig into the data. Look into the specific details of specific drivers on specific days where they aren't getting the hours they deserve. It might be helpful to keep a log of every time a driver gets less than 5 hours of driving in a day and code why they were underutilized.
As you continue gathering and coding data, patterns will emerge. When you see these patterns, dig down to the root cause and fix the problems.
In the companies I've worked with, this involves booking more freight, optimizing appointment windows, adjusting trailer pools, increasing drop-and-hook shipping and working with the shop. I've also seen companies get big utilization improvements from getting creative with drop-and-swap and relay arrangements, and picking up enough freight on Fridays and using drop yards to keep everyone busy through the weekend.
This is hard work, but it's not impossible work. It's more tedious than difficult. Successful execution depends more on discipline and persistence than luck or highly-skilled employees.
Huge benefits
Imagine what would happen to your company if driver utilization increased by 25%. Imagine all the extra revenue and profit without having to buy any more trucks or hire any more drivers.
With drivers making significantly more money, they will be less likely to quit. A busy driver is a happy driver. With better retention comes better safety, fewer unseated trucks and less time and money spent recruiting and training new drivers.
Non-driver productivity will also increase as more and more of your drivers are tenured professionals who know all the internal systems and processes for planning, dispatch, maintenance, payroll, etc.
I remember implementing electronic logs on our fleet. I was warned by many that we would see a big decrease in utilization. However, we actually saw a significant increase in utilization as we leveraged precise realtime data to optimize appointment scheduling and dispatching. As utilization increased, we saw all the benefits mentioned above.
What looks like a driver shortage problem may actually be a driver utilization problem. It's time to start thinking differently.
Richard Stocking is the founder and CEO of DPX Consulting, a transportation consulting firm that helps fleets with strategic operational improvements and M&A activity. Prior to founding DPX Consulting, he enjoyed a 27-year career with Swift Transportation that began as an entry-level customer service representative and worked through various roles in sales and operations throughout the United States before becoming president and CEO. At the time of his departure, Swift Transportation had grown into the largest truckload carrier in North America with 18,000 trucks, 60,000 trailers, and $4.5 billion in annual revenues servicing the U.S., Mexico and Canada.