Trucking news and briefs for Thursday, May 6, 2021:
DOL's independent contractor rule withdrawn
The Department of Labor is officially withdrawing a late-Trump-era rulemaking that would have clarified the definition within the Fair Labor Standards Act. Because the rule never took effect, owner-operators will so no changes as a result of the rule's withdrawal.
DOL published the final rule on Jan. 7, shortly before the end of Trump's presidency. Just days prior to the rule's publication, the incoming Biden administration specifically mentioned the independent contractor rule as one of Trump's "midnight regulations" that would be halted.
The independent contractor rule would have used five economic-reality factors to help businesses determine whether a worker is an employee or an independent contractor. Two of those factors – the nature and degree of the worker's control over the work and the worker's opportunity for profit or loss – were the two "core" factors for determining a worker's classification and carried greater weight than the other three factors.
The other factors included the amount of skill required for the work; the degree of permanence of the working relationship between the worker and the potential employer; and whether the work is part of an integrated unit of production.
The Owner-Operator Independent Drivers Association expressed disappointment in the withdrawal, which the group says "would have provided owner-operators additional certainty about their worker classification status." OOIDA adds that it believes under the rule, owner-operators could have generally continued working under their existing arrangements with carriers without fear of being reclassified as employees.
"The department's final rule, for the most part, would have helped provide new certainty and clarity to owner-operators," said Lewie Pugh, executive vice president. "While there were certainly some provisions that needed to be fixed, this could have been done without the wholesale withdrawal of the rule."
DOL says it received more than 1,000 comments on its proposal to withdraw the independent contractor rule both in support of and opposition to the rule's withdrawal. Those who generally supported the rule's withdrawal felt that it would have "facilitated the exploitation of workers reclassified or misclassified as independent contractors as a consequence of the rule."
Those opposed to withdrawing the rule, which DOL says included a number of people who identified themselves as current or former independent contractors, felt the rule would have provided "a clearer and preferable analysis for determining employee or independent contractor status."
TuSimple partners with insurance firm to assess autonomous safety
Autonomous trucking firm TuSimple is partnering with Liberty Mutual Insurance to assess the comparative safety of autonomous trucks. The companies will work together to better understand how autonomous technologies perform in comparison to the same types of trucks driven manually by human operators.
"We believe the benefits of autonomous vehicles are powerful and will play a vital role in reducing the number of truck-related fatalities in the future," said Jim Mullen, Chief Administrative and Legal Officer for TuSimple. "Given most accidents are caused by distracted, impaired and fatigued driving – factors that are eliminated by autonomous trucks – we expect the data to reveal significant safety advantages when TuSimple's autonomous driving technology is applied."
Today, TuSimple's Autonomous Freight Network operates a fleet of 50 Level 4 autonomous trucks across Arizona, New Mexico and Texas. TuSimple transports freight for revenue on highways and surface streets for customers such as UPS, U.S. Xpress, and Berkshire Hathaway's McLane Company, among others, and plans to expand its Autonomous Freight Network from coast-to-coast by 2024.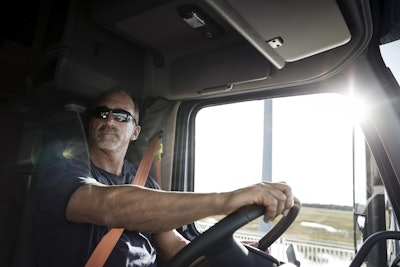 Lytx DriveCam now offered as option on Volvo trucks
Onboard technology from Lytx is now available on all model year 2022 or newer Volvo trucks as a factory-installed option. Volvo says the integration of Lytx's video telematics is another step toward the company's vision Towards Zero Accidents.
Utilizing machine vision and artificial intelligence technology, the Lytx DriveCam event recorder helps to monitor and evaluate driver performance by accurately identifying behaviors such as failure to wear a seatbelt, following distance and lane departure. The windshield-mounted system is designed to help improve driver safety, operational efficiency and DOT compliance, and serves as an effective tool for driver training. It can also assist in defending professional drivers when accidents occur due to other road users.
The plug-and-play DriveCam prep kit is easily mounted on the bottom of the truck's windshield. The prep kit includes the full wiring package, and additional accessories can be purchased directly from the supplier. Volvo Trucks adds that it has placed a priority on reducing installation time in order to get new trucks on the road faster.
Heniff acquires Nebraska-based bulk food-grade carrier
Carry Transit LLC, the food-grade transportation division of Heniff Transportation Holdings (CCJ Top 250, No. 67), has announced its acquisition of the food-grade hauling business operated by Jasa Transit, LLC of Blair, Nebraska, effective April 30th. Jasa operations will become a part of the Carry Transit bulk food carrier and rail transfer business.
"Linda and her late husband Rick have done an incredible job of building a great company dedicated to safety and service," said Bob Heniff, CEO of Heniff. "They have a great team of drivers and a family culture that will strengthen our ability to service our customers."
Founded in 1997 by Rick Jasa and Linda Ingram-Jasa, the company provides liquid and dry bulk food-grade transportation services across a diverse customer base.