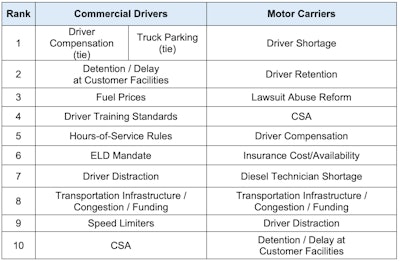 For the fifth year in a row, the driver shortage has topped the American Transportation Research Institute's (ATRI) annual Top Industry Issues report, a survey of more than 2,500 carriers, commercial drivers and other industry stakeholders.
Unlike 2019 and 2020, where margins between the driver shortage and the No. 2 industry issues were much closer and the driver shortage earned just 28.6% and 26.4% of the total share of votes, respectively, the driver shortage totaled 47.4% of the total share of votes in the 2021 survey.

Shifting the driver paradigm: Winning with equipment, technology and culture
Join us in person at the the 2021 CCJ Solutions Summit, Nov. 30 - Dec. 2, in Chandler, Arizona. CCJ Summit assembles fleet executives, thought leaders, industry analysts and leading suppliers to explore ways equipment, technology and corporate culture can shift the driver paradigm and overcome your No. 1 challenge: Cultivating a qualified workforce.
Don't miss your chance to collaborate and socialize in-person with your peers at the picturesque Sheraton Grand at Wild Horse Pass.
"The contributors to this [driver] shortage are endless," said Rebecca Brewster, ATRI president and COO during an educational session Sunday at the American Trucking Associations' annual Management Conference and Exhibition in Nashville. "Growing freight demand, the shift to e-commerce that leads to more local jobs that is hurting the over-the-road driver recruiting, an aging workforce and we are not backfilling with younger individuals that we need to account for those driver retirements." Brewster added the pandemic also has created a backlog in driver supply from training schools and state licensing agencies that were temporarily shut down.
Hugh Ekberg, president and CEO of CRST International, cited the unfavorable perceptions of truck driving as a career and advocated for the consideration of under-21 drivers to help offset supply chain concerns across the country. "Age is not the number one indicator of safety, it is how does the person think and behave," he said. "Some people are not going to be good, safe drivers and many adults would be very safe drivers."
Ekberg also said the ability to reach potential drivers at a younger age with a positive message about truck driving is critical to solving the driver shortage. The fact the industry can't actively recruit drivers while they're in high school is problematic, and often would-be drivers pick different trades – like plumbers or electricians – where their age isn't a factor. "To attract them 3 or 4 years later is very difficult… We have to do a better job to communicate what a great industry [trucking] is, how important it is to our economy and what a truly rewarding profession it can be," he said.
The driver shortage isn't the only labor-related concern noted in ATRI's Top 10 as a shortage of diesel technicians cracked the list (No. 10) for the first time. The U.S. Bureau of Labor Statistics estimates that there will be over 28,000 openings for diesel service technicians and mechanics for each of the next 10 years.
Driver-related issues dominated ATRI's Top 10 list in 2021, with driver retention and driver compensation ranking No. 2 and No. 3. Truck parking, which was listed as a tie for No. 1 among commercial driver respondents, didn't crack the Top 10 for carrier respondents but settled in at No. 5 overall. Detention/delay at customer facilities was No. 7 overall on the list, up two spots from last year.
"Retention breaks down to consistency, transparency and communications," said Bill Hambrick, a company driver for Werner Enterprises and an America's Road Team Captain. He said drivers want a working relationship with the employers – one where their feedback is valued and transparency is established. "Communications is vital," he said. "Without it you sever any way of salvaging daily productivity."
Rounding out the rest of the Top 10 list:
No. 4: Lawsuit abuse reform (tort reform), driven by a 967% increase in average jury verdict size between 2010 and 2018;
No. 6: Compliance Safety and Accountability (CSA), down from No. 4 in 2020;
No. 8: Transportation infrastructure/congestion/funding is back on the list after falling out last year;
No. 9: Insurance cost and availability, down from No. 5 last year.
For the third year in a row, driver distraction fell just outside the Top 10, landing at No. 11. According to the latest data from the National Highway Traffic Safety Administration (NHTSA), "Nine percent of fatal crashes, 15 percent of injury crashes, and 15% of all police-reported motor vehicle traffic crashes in 2019 were reported as distraction-affected crashes."
Fuel prices came in at No. 12 and the economy (angst over inflation, supply chain disruptions, workforce challenges, and uncertainty over lingering or long-term impacts from the pandemic) came in at No. 13.
ATRI's annual Top Industry Issues survey asks respondents, including motor carriers and drivers, to select their top three from a list of 30 pre-identified critical issues, and subsequently rank their top three preferred strategies that correspond to each selected issue. An issue that is ranked by a respondent as most important receives three points, while an issue ranked second receives two points and an issue ranked third receives one point. The issue with the highest number of points is identified as the top industry issue.