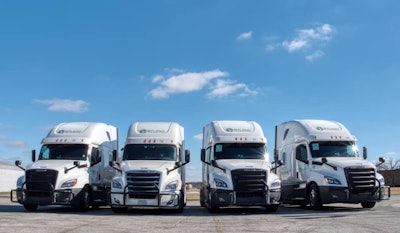 Byland Transportation
Brentwood, Tennessee-based 3PL Sage Logistics is acquiring Byland Transportation, an asset trucking company in Downers Grove, Illinois.
Byland has been serving the Chicagoland area for 6 years and currently operates in all 48 lower U.S. states.
Sage Logistics Holdings CFO John Hellige said acquiring Byland Transportation's 48 trucks and 70 trailers will enhance Sage Logistics' transportation and logistics services, allowing the company to better serve its existing clients while also expanding its reach in the industry. However, Hellige added, as the carrier grows "we will add dedicated opportunities."
"We are thrilled to welcome Byland Transportation to the Sage Logistics Holdings family," Hellige said. "This acquisition will allow us to offer a wider range of 'asset right' transportation solutions. Our mixture of brokerage, flexible drop trailer solutions, tied to an asset- based trucking operations further expands our ability to provide top-notch service to our clients. This acquisition also allows us to provide our customers with dray services in the Chicago market which we plan to rapidly grow. Byland is the second trucking acquisition that we have made. We are very active in the asset acquisition market and will continue to build our fleet."
Byland Transportation is a provider of over-the-road full truckload, LTL, expedited service, local and regional delivery, hazardous delivery, drayage, and warehousing services.
"We are excited to join forces with Sage Logistics, a company that shares our commitment to providing exceptional service to clients," said Byland Transportation c-founders Joshua Dickemann and Darius Nakvosas. "We look forward to working together to continue growing and innovating in the industry."
Byland Transportation will operate under the name Sage Truckload, and will operate 49 Trucks and 138 trailers.