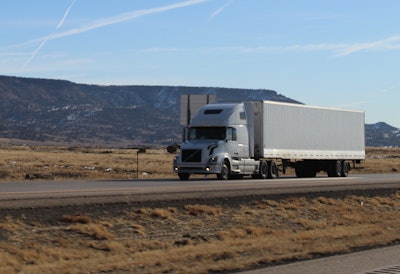 Tom Quimby
People don't quit jobs. They quit people.
That oft-repeated phrase came to mind for WorkHound CEO Max Farrell in the wake of roughly 40,000 driver survey responses that his company reviewed from 2020.
When it came to feedback on people that drivers regularly interact with, including dispatchers, planners, office staff and mechanics, positive and negative comments were about evenly split, Farrell said.
Why the criticism? There's a lot of stress to go around and not enough empathy to match which can lead to greater frustration and greater driver turnover rates that can impact a company's bottom line.
"We've all experienced it, but when you have stress in your life you're going to be more irritable," said Dr. Kirleen Neely, CEO of the Neely Counseling Center, who participated in WorkHound's recent webinar on driver retention. "You're going to be more defensive. You're going to be quick to what I call, 'pop-off,' not really think about what you say before you say it."
When it comes to stress, drivers reported being more pressured by dispatchers than any other staff member. Roughly 42% of driver comments concerning personnel were directed at dispatchers. Mechanics garnered nearly 25% of written feedback while office got 17% and planners 16%.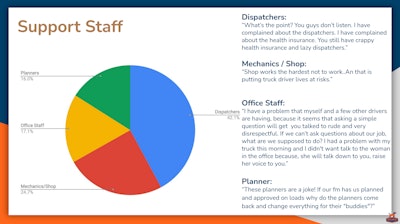 Casey Bellman, chief people officer of Chicago-based HMD Trucking with more than 500 tractors, was Farrell's other webinar guest. He explained that drivers and dispatchers are up against different sources of stress that either party may not always understand or appreciate.
"There are two completely different types of stress involved there: the drivers dealing with the stress on the road—the stress of the motoring public, the stress of their equipment and being pushed by the dispatcher," Bellman said.
"Where the dispatcher is sitting in an office or maybe at home in a controlled environment, where the stress is coming from is their leaders to perform to hit a certain revenue."
With both drivers and dispatchers up against plenty of challenges, communication between those roles becomes more important than ever.
"If you have two people who have stressful jobs: the driver and the dispatcher and you put them together it is obvious that you're going to have issues and I think because of the fact that we talk about boundary-spanning roles, you have to have better-than-average communication," Neely said.
It's not just better communication that counts but getting to know one another on a personal level that can help foster more respect and job satisfaction all around.
"It's easy for the stress of the driver's job and the dispatcher's job to lead to frayed nerves, because when you have two stressed out people that have never even met and don't have empathy, you can get rage—phone rage just like road rage," Farrell said.
Building empathy and respect
Neely, whose company specializes in improving the mental health of workers in the transportation industry, said one of the main concerns cited by drivers is a perceived lack of respect from those they interact with at their carrier.
Customers aren't the issue. In fact, WorkHound's anonymous survey results showed that comments on customers made up only 2.2% of overall written feedback.
Feeling of disrespect can be compounded by the challenges of life on the road, like "loneliness, burnout and marriage on the road," Neely said which "research is showing affect retention."
Talking with drivers regularly, not just messaging through a phone or EDL, helps to ease tension.
"The best people in operations are the ones that have that daily, strong communication call with their driver," Bellman said. "Maybe most of it's personal like talking about the driver's family and understanding what they're going through."
The same goes for passing along news that may have a big impact on a driver. It's better to call than text.
"I think on the surface, it seems so obvious that we should keep people in the loop, but we get busy and we don't," Neely said. "I think what it comes back to is a lack of respect. When someone is not in the loop, they feel disrespected."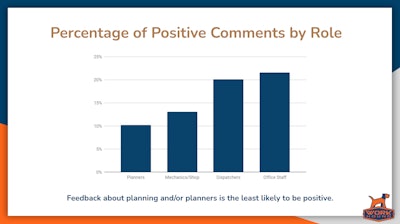 Training drivers and others to better know each other's roles can help create greater understanding and empathy. This can include job shadowing which can further reduce tensions and build a more trusted rapport.
"Any type of job shadowing or ride-along, even having a driver come into the office is a good idea," Bellman said. "I've done that with companies I've worked for. It really does quickly get you to see the world through the driver's eyes and see all the headaches they deal with throughout the day. You really just can't understand it until you've witnessed that."
Though building trust and empathy can prove challenging for any company, employees who feel valued by their company, particularly drivers, are likely to hang around.
"Even from dispatch, they have to feel like they're getting empathy," Neely said. "They have to feel like they've been heard. They have to feel that someone cares about what's going on in their life because it rolls downhill. It's a complicated issue when you talk about empathy, but the culture of the company is what really comes to mind overall. People have to feel like we give a damn, honestly."