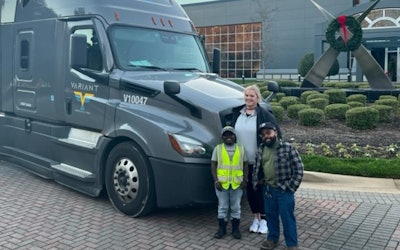 His trucking videos have amassed millions of views and it's easy to see why.
Though U.S. Xpress (CCJ Top 250, No. 19) driver Joachim Wangui doesn't stand much higher than the headlights on his Freightliner Cascadia, the native African's positive attitude and strong work ethic keep him rolling along from one stop to the next where he keeps his big rig in line and turns plenty of heads along the way.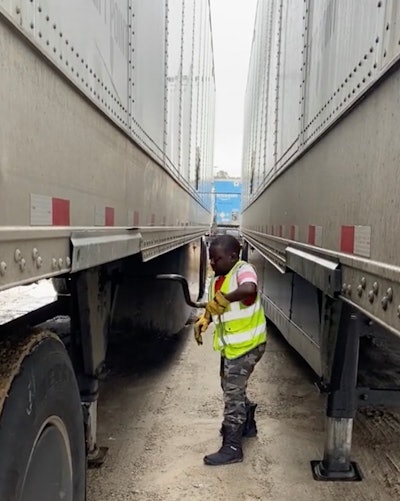 "They are surprised to see me coming out of the truck," said Wangui who stands four-feet, two-inches tall. "When I come out of the truck and I look at their faces, I see a lot of question marks."
Wangui takes it all in stride and is happy to chat with fellow drivers, have his picture taken alongside them, and show them his truck from Variant, an over-the-road branch of U.S. Xpress.
"Sometimes I open the driver's door, show them my extension pedals and the pillow on my seat and when I show them they're like, 'I appreciate you showing me this because I was curious,'" Wangui said.
Stairs were added behind the cab so that Wangui can quickly climb up and access the trailer's gladhands. A video on his TikTok page showing him doing just that and more has racked up 3.4 million views. Another video showing him exiting the cab and cranking his trailer landing gear has 5.3 million views and counting.
But Wangui's favorite video on his page, Katuosis The Truck Guy, has far less views. It's when he became a U.S. citizen, which he said ranks as "the best day of my life." Dressed in a suit and proudly holding an American flag, Wangui wears a miles-wide smile while dancing to Alan Jackson's "Little Man." It's far less popular than his other videos, but that doesn't make the moment any less valuable given the hard work he put in to get there.
He closely studied American history, got familiar with geography and learned about government representatives from the White House to his home state of Ohio, which is a long way — roughly 7,700 miles — from his native Kenya.
"I've been here in America for six years now. I just got my citizenship on Nov. 9. That's when I went for my oath taking," Wangui said. "It's good to be here in America because life in Africa was a little bit hard for me as a little person. I couldn't even drive a regular car there because accessibility rules there are different."
Family and friends in Africa were surprised to learn that he became a truck driver.
"A lot of them were shocked because they didn't expect that I would have chosen this career, but after they learned that I'm in trucking they were so happy," Wangui said.
Life takes a turn
When Wangui came to the U.S. it didn't take him long to learn that he didn't like being confined to a workstation. Instead, he had his car modified with extension pedals and hit the road doing food deliveries.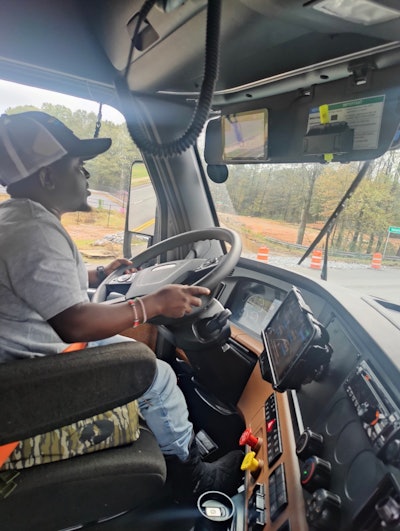 He liked driving and interacting with customers but he wanted something more. The can-do attitude that took him from Africa to America soon had him thinking of becoming a truck driver.
"I had tried a few jobs here and there but I had an interest in trucking," Wangui said. "I just didn't know how to go about it until I met a friend online who walked me through the whole process until I joined Variant. He's actually a Variant driver."
That driver is Lorenzo Sampson, who also didn't let his short height stand in the way of captaining a tractor trailer at Variant.
Sampson and Wangui met through the non-profit advocacy group Little People of America. Sampson's story on the group's Facebook page inspired Wangui to reach out and learn how he might get his CDL. Sampson was happy to help and sponsored Wangui as he pursued his CDL with the goal of driving for Variant, but it wasn't easy.
"It was overwhelming," Wangui said. "At first I was very nervous when I joined truck driving school and I saw the truck. I used to see trucks on the road when I was driving my small car, and I was like, 'I really need to drive that truck.' But when I got in behind the wheel, it was so huge and I was so nervous when I started, but once I got used to it, day-by-day, I started to be comfortable with the truck."
After getting his CDL around the same time he got his citizenship, Wangui hit the road with Variant. While his work has taken as far west as California, much of his time is spent in Ohio.
U.S. Xpress Senior Vice President of Talent Acquisition Jacob Kramer said Wangui has an extraordinary story, but he's also eager to be seen as simply a man doing a job and doing it well.
"Joachim shows everyone that seeing someone doing something you didn't know was possible opens up a new world," Kramer said. "But he also just shows up and works hard and gives it all he has."
Wangui said he enjoys the financial freedom he now has driving for Variant and hopes to keep inspiring others through his videos and conversations to take on challenges that might at first seem overwhelming, like driving a truck.
"If I can drive this 18-wheel big truck, anybody can do it. Anybody can do it," Wangui said. "They just need to believe in themselves."