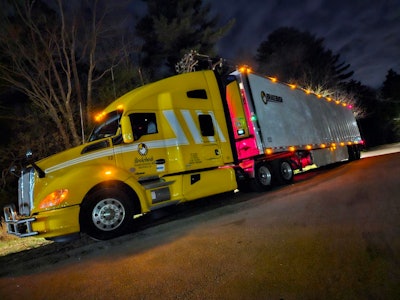 Ryan Vlk
CCJ Innovators profiles carriers and fleets that have found innovative ways to overcome trucking's challenges. If you know a carrier that has displayed innovation, contact CCJ Chief Editor Jason Cannon at jasoncannon@randallreilly.com or 800-633-5953.
In the six months he has been an over-the-road truck driver, Ryan Vlk has seen almost every state in the continental U.S. Maine, so far, is his favorite with its beautiful scenery and Dysart's truckstop in Hampden that has a "really good chicken pot pie." Vlk said he loves seeing the country through the windshield of his Kenworth T680, and he got the opportunity to get out from under the hood and into the driver's seat through Brakebush Transportation's new Driver Finishing Program that recruits employees from other areas of the business to become drivers.
The idea for the Westfield, Wisconsin-based carrier's new driver recruitment strategy came about in 2018 in an effort to fill more seats amid a driver shortage, but despite that ongoing industry dilemma, the program came to a screeching halt before it ever got started when COVID-19 hit, said Brakebush Transportation General Manager Mike Schwersenska. The pandemic led the company to shift its priorities to keeping the drivers it did have safe.
With somewhat of a return to pre-pandemic normalcy, Brakebush has been able to refocus on the program. The company – the private carrier for Brakebush Brothers Inc., which evolved from a trucking company in the 1920s hauling livestock and poultry to include its own chicken processing and egg packaging facilities – now has a waitlist for drivers with 86 of its 90 trucks filled.
Vlk was the first person to go through the program, which recruits qualifying drivers that either graduated from Entry-Level Driver Training (ELDT), or have less than two years over the road experience. Vlk received his CDL just before the ELDT mandate went into effect. Another driver in Texas went through the program around the same time as Vlk, and now two more – Ryan Ruck, a shop tech in Wisconsin, and Rebecca Clay, the daughter of a current Brakebush driver – are enrolled in the program.
"Our first student was one of our mechanics (Vlk), and he went through the program, graduated and is now one of our OTR drivers," Schwersenska said. "We have just started to have conversations with some additional people that are interested out in the plant. We also have another one of our maintenance techs who just started CDL school, and once he comes out of CDL school he'll go through our finishing program."
The program – still in its infancy – has had a 100% retention rate so far, he said.
But if someone decides they don't want to drive, Schwersenska said they can return to their previous position if that position or a similar one is available. The point of the program, he said, is to keep Brakebush talent in the Brakebush family.
"This is a long-term investment in growing our talent and allowing those willing to invest the time to increase their earning potential expediently," Schwersenska said. "Ryan Vlk has shared with us what a positive impact this career change has had on himself and his family."
Vlk said he counts Brakebush as family, especially his trainer in the finishing program.
"I had everyone there helping me make it through, everyone there supporting me getting through training. My trainer was phenomenal. Very smart. He's been driving for over 20 years," Vlk said. "When I stopped driving with Jason, he told me the whole entire time, 'I'll never stop training you. I'll always be here.' So that was probably one of the best parts about all of it. They pick the right people to do this program, the right trainers, and they need at least five years of experience, if not more. Having drivers that are not knowledgeable train is just the blind leading the blind. You've got to have drivers with experience to do this program. Otherwise, you've got drivers that don't know what they're doing."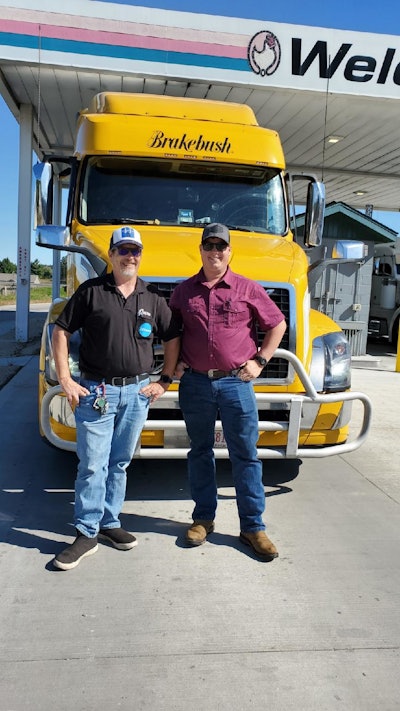 Vlk said his supervisor at Brakebush wanted some of the mechanics to get their CDL so, among other reasons, they could pick up trucks if a driver breaks down or runs out of hours and a load has to be delivered. Vlk, who comes from a family of truckers, already held a CDL.
That led him to being the first recruit.
"I was a mechanic until the last week … and then once I was a driver and training, I was no longer a mechanic," he said. "That was it. It was from one job to the next."
Brakebush paid Vlk as a driver in training, which he said was only slightly less than what he had been making as a tech, while he trained on the road for six weeks. That is they typical timeframe for training, Schwersenska said, but the driver trainers, which include men and women, ultimately choose when the student is ready to go solo. Prior to on-the-road training, students go through in-house training. If they don't yet have their CDL, the first step is attending school. Schwersenska said Brakebush works closely with a local CDL school on that process, and the company will pay for it if the student contracts to work for the company for a certain period of time post-graduation. Otherwise, the company will help recruits find avenues to help fund schooling. The company helped Ryan Ruck find funding through Veterans Affairs, for example.
Schwersenska said Brakebush wants mechanics like Ruck to have a CDL, so it began the program by recruiting from that department because it was a more natural transition, but the company is in the process of opening the opportunity to others within the organization. He said the program has garnered interest among production employees at the chicken facility, but it is open to employees across the board, even back-office workers, for example.
"The biggest opportunity for us is to take folks that are maybe not looking at working on a production line as a career path; being a driver is more of a career path, and they see that and they see the earning potential with it," he said. "There's been quite a bit of interest around that."
While taking an employee from one department to fill a driver's seat is a bit of a robbing Peter to pay Paul scenario, Schwersenska said the primary goal is to better the lives of employees.
"As most companies post-COVID, we attempt to do more with less. The thought of taking someone out of our production facility and training them for a driving position is a difficult sell," he said. "However, the opportunity it brings to impact someone's life positively needs to be part of our mission … We have a company motto: One team, one mission. If we're truly one team, then it shouldn't really matter."
Fleet Manager Chris Armstrong said depending on experience, tech wages start at $23 an hour, and tech support positions start at approximately $17 an hour. A starting production wage would be similar at approximately $17.50 per hour, he said.
Vlk said it was the best decision he could have made.
"I already had amazing benefits being with Brakebush, so that didn't change; they give everyone the same benefits there, but the increase in pay was dramatic. It was the best thing that could ever happen to me," Vlk said. "I was making maybe about $30,000 to $35,000 as a mechanic, and I'm thinking that I'll be close to $100,000 this year."
Schwersenska said Brakebush too benefits from recruiting from within the organization. When trying to hire a driver from another company, he said they oftentimes express fear over changing jobs, but making a move within your organization lessens that angst considerably. He said there's also the benefit of the employee already having an internal understanding of the organization and how it works and time savings associated with onboarding a new person.
"We have a logistics person that works for us and she came out of shipping. She was packing and unloading trucks, and she came and started our logistics department here probably three or four years ago, and that additional knowledge they have is a huge benefit to the rest of the team," he said. "There are all kinds of opportunities for people, and we'd like to get them in and keep them there. I've had people that work in transportation, and I said 'I'd rather you go work in accounting than for you to go work someplace else because I feel that your value is enough that we would much rather keep you here than lose you. So even though you're leaving our department, you're still with the organization, which is still a benefit to everybody.'"
Schwersenska said recruiting from within has also helped the company obtain younger drivers at a time when many are aging into retirement, exacerbating the driver shortage problem. He said he hopes that age trend with this program continues.
Vlk, 32, said the pay increase isn't the only attractive aspect of his new job.
"It's the freedom. I love not having someone breathing down my back. I'm my own boss. I am the captain of this ship, and that has probably been the best part," Vlk said. "I'm over the road. I absolutely love it. I won't let them give me a dedicated route. I get bored too easily. So it's been a lot of fun. I love going all the different places."
The CCJ Innovators program is brought to you by Bendix, Comdata, Freightliner Trucks, SkyBitz and Valvoline.