Trucking news and briefs for Thursday, March 9, 2023:
North Carolina-based fleet shuttered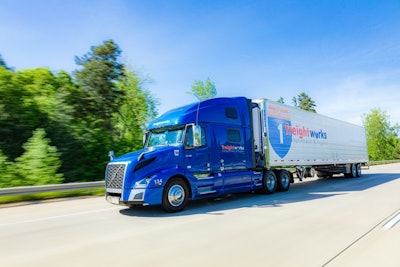 FreightWorks Transport, a nearly 200-truck hazmat, high-security and temperature-controlled freight hauler based in Rutherfordton, North Carolina, is officially closing its doors.
Jordan Kidd, FreightWorks' director of business intelligence, marketing & IT, told CCJ on Wednesday that company owner Josh Farmer closed the company "in the most honorable way I've seen this happen in this industry," with freight being delivered and employees getting paid.
"The owner has taken great time, effort and resources that he didn't even have to make sure that everyone got home safely, fuel cards weren't turned off before people got home, freight was all delivered – there's no abandoned loads across the country – and everyone gets their last paycheck," Kidd added.
In a press release, the company said that several customers "required massive rate and volume concessions in the last week," which "far exceeded the scale of what we could absorb," despite moves to adapt to the current freight environment.
Kidd said employee response to the news of the closure "has overwhelmingly been nothing but support for everyone else, for fellow teammates.
"It's very unfortunate, but everyone hopes that just one day there will be a trucking company equal to that which FreightWorks was," he added. "It's been encouraging to see the response, especially from employees."
FMCSA's investigation into TuSimple autonomous truck crash closed
Autonomous truck maker TuSimple announced last week that the Federal Motor Carrier Safety Administration has closed its investigation into a crash that occurred April 6, 2022, in which a TuSimple truck made contact with a concrete median divider in Tucson, Arizona. The incident resulted in no injuries.
After timely reporting of the April 6 incident, TuSimple said it responded to several requests from FMCSA, and the investigation concluded without any penalties brought against the company.
In addition, TuSimple cooperated with the National Highway Traffic Safety Administration on the matter and confirmed that NHTSA did not open an investigation into the incident.
"We prioritize safety at TuSimple," said Cheng Lu, President and CEO at the company. "After the incident, we halted autonomous operations, launched an internal review, and collaborated with regulators. Our review resulted in additional improvements in our systems and testing operations. We are committed to continuing our mission of developing a commercial-ready, fully autonomous (SAE Level 4) driving solution for long-haul heavy-duty trucks."
TuSimple had a tumultuous 2022, starting with the April crash. In September, the company became the subject of a class-action lawsuit from investors. In December, TuSimple and Navistar called off their autonomous partnership. The company also underwent a leadership change after then-CEO Xiaodi Hou was fired in October after allegations the company was being investigated by the FBI, the Securities and Exchange Commission and the Commission on Foreign Investment about its ties with Hydron, an autonomous startup founded by TuSimple co-founder Mo Chen last year. Cheng Lu, who led the company as CEO from September 2020 through March 2022, returned to the role in November.
Averitt opens new Kentucky distribution center
Averitt Express (CCJ Top 250, No. 26) recently opened a new distribution and fulfillment center in Louisville, Kentucky – the latest move in the company's continued growth of its distribution and fulfillment services.
The 324,000 square-foot enclosed-space facility will equip Averitt to further expand its capacity to handle the flow of domestic and international freight. The center is strategically located near the Louisville International Airport, as well as local railyards.
With its new Louisville location, Averitt will be able to streamline its customers' supply chains throughout the Central and Southeast United States.
"Louisville is one of the nation's busiest distribution hubs, and its location is ideal for distribution and fulfillment services," said Ed Smith, Averitt's vice president of distribution and fulfillment. "With this new location, we can reach 95% of the U.S. population by air within four hours and 65% within a day's drive."
Averitt expects a significant portion of the new center to be dedicated to its customers in the bourbon and spirits industries. Customers in these industries will be able to store and distribute both finished and unfinished goods at the location, allowing for accelerated production and convenient transportation solutions.
Volvo names Dealer Groups of the Year
Volvo Trucks North America named two of its North American dealers as U.S. and Canada Dealer Groups of the Year.
Massachusetts-based Ballard Truck Center was named the 2022 U.S. Dealer Group of the Year, and Sheehan's Truck Centre in Ontario was named the 2022 Canadian Dealer Group of the Year. The award recognizes exemplary performance across several key areas, including reaching sales targets, business growth, and customer satisfaction.
"Our two award winners played a key role in helping to increase market share and customer satisfaction for Volvo Trucks as they remained focused on delivering quality vehicles and services in another challenging year," said Peter Voorhoeve, president of Volvo Trucks North America. "We are excited to announce Ballard Truck Center as the 2022 U.S. Volvo Dealer Group of the Year and Sheehan's Truck Centre as the 2022 Canadian Volvo Dealer Group of the Year and proud to honor their outstanding performance in all of the criteria including customer satisfaction and business performance, with a focus on expanding Volvo's sustainability efforts and service offerings."
Sheehan's Truck Centre was founded in 1989 by Pat and Gayle Sheehan. Their children, Kelly and Dennis, took over the dealership in 2000, growing it into one of the largest used truck dealers in Canada. The Sheehan's chose to locate the dealership's headquarters in Burlington, Ontario to serve the large Toronto market and purchased Beaver Truck Centre in 2017 to add facilities in Winnipeg and Brandon, Manitoba. The dealership was a 2020 Volvo Trucks North America Used Truck Dealer Group of the Year award winner and continues to make investments in state-of-the-art facilities and services.
Ballard Truck Center is a fifth-generation family-owned business operated by co-owners John Picking and Steven Grahn and headquartered in Avon, Massachusetts, ideally located to support and service customers in the Boston market and throughout the Northeast from its seven locations, spanning three states. Ballard Truck Center was awarded top U.S. dealer in Customer Satisfaction in 2019 and recently became the first Volvo Truck Certified Electric Vehicle Dealer in Massachusetts at its Tewksbury location
Volvo Trucks' 2022 Regional Dealer Group of the Year Awards recipients include:
Central Region: Gateway Truck & Refrigeration, Inc.
Northeast Region: Ballard Truck Center
Southeast Region: Action Truck Center
Southwest Region: Bruckner's Truck & Equipment
West Region: TEC Equipment