Trucking news and briefs for Thursday, Jan. 26, 2023:
ATA truck tonnage up slightly in December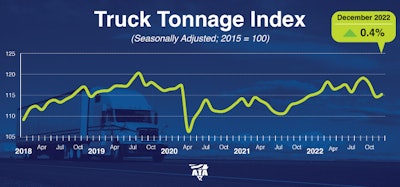 American Trucking Associations' advanced seasonally adjusted (SA) For-Hire Truck Tonnage Index rose 0.4% in December after decreasing 2.5% in November. In December, the index equaled 115.2 (2015=100) versus 114.8 in November.
"Despite the small gain in December, for-hire truck tonnage clearly decelerated during the final quarter in 2022," said ATA Chief Economist Bob Costello. "In fact, tonnage outperformed some other key metrics that drive truck freight, like housing starts and factory output during the final month of the year. This is probably because contract truckload freight is still outperforming the spot market and less-than-truckload freight after underperforming both of those sectors in 2021."
For all of 2022, tonnage was up 3.4%, which was the best annual gain since 2018. "Despite weakening in the second half, 2022 overall was a solid year for truck freight tonnage," Costello said. "The index's yearly gains were primarily driven by strength in the first half of 2022, so despite a marked slowdown as the year ended, for the year as a whole, tonnage posted a very solid year overall."
Compared with December 2021, the SA index increased 0.3%, which was the sixteenth straight year-over-year gain, but the smallest over that period. In November, the index was up 0.8% from a year earlier.
The not seasonally adjusted index, which represents the change in tonnage actually hauled by fleets before any seasonal adjustment, equaled 112.6 in December, 1.8% below the November level (114.6).
Shippers' conditions jumped into positive territory in November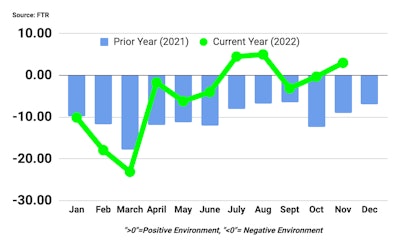 FTR's Shippers Conditions Index (SCI) improved in November to 3.0 from the previous -0.3 reading. A more favorable freight environment and lower fuel costs boosted the index into positive territory after two months in the negative range.
The fuel cost component remained slightly negative but improved sharply month-over-month while rates were the most favorable for shippers since June 2020. The outlook is solidly positive for shippers into 2024, FTR noted.
"The outlook has improved overall for shippers, but it will depend on exactly what mode and lane they operate in, as to how much improvement they will feel in their business," Todd Tranausky, vice president of rail and intermodal at FTR. "Truck-focused shippers are likely to experience the largest improvements relative to rail and intermodal shippers."
The Shippers Conditions Index tracks the changes representing four major conditions in the U.S. full-load freight market, including demand, freight rates, fleet capacity and fuel prices. The individual metrics are combined into a single index that tracks the market conditions that influence the shippers' freight transport environment.
Xcell Logistics opens new Texas warehouse
Xcell Logistics Services announced this week the opening of an additional warehouse in Laredo, Texas.
Recently acquired by Dallas-based B.I.G. Logistics, the new facility located at 502 Nafta Blvd. will meet the growing demand for the company's logistics services in the region and further solidify B.I.G. Logistics' presence on both sides of the border offering critical north and southbound customs brokerage, transportation and warehousing services.
B.I.G. Logistics, a SecurCapital Corp portfolio company, is a leading third-party logistics provider deploying a technology-enabled warehouse management IT platform in warehouses throughout Texas and Mexico with plans to open a Santa Teresa, New Mexico, facility later this year.
"We are delighted to immediately expand our 3PL warehouse footprint in Laredo's crucial cross-border, high-demand market after our merger with B.I.G. Logistics," said Cedric Sosa, Xcell Logistics Companies CEO. "We are in the right place at the right time. Year to date, Laredo represents 37% of trade by value between the U.S. and Mexico with a figure of $243.8 billion. For importers and exporters on both sides of the border, Xcell Logistic Corporation in Mexico offers wide coverage of existing offices in all major ports of entry enabling cross-border, single turnkey solutions for our USA and global customers."
Jointly, the companies offer pharmaceutical-licensed, 3PL cross dock and temperature-controlled warehouses, fulfillment, transload, customs brokerage, and operate Foreign Trade Zone (FTZ) facilities, light manufacturing, and e-commerce services. The new combined companies offer complete lifecycle management of international and domestic air, ocean, ground, custom brokerage, and project cargo.
Nikola receives order for 15 hydrogen fuel-cell trucks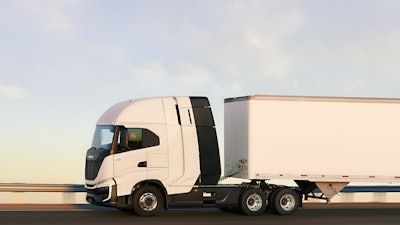 Nikola Corporation announced that full-service logistics company Biagi Bros. plans to take delivery in the fourth quarter of 2023 of 15 Nikola Tre hydrogen fuel-cell electric vehicles (FCEVs) in Ontario, California. The FCEV trucks are expected to put in more than 100,000 miles per year to support round-the-clock operations.
"These initial 15 Nikola Tre FCEVs are part of Biagi Bros. commitment to transition their fleet to zero-emissions," said Michael Lohscheller, Nikola's President and CEO. "In addition, the trucks will be fueled at the previously announced hydrogen station in Ontario, California."
"Biagi Bros. has been successfully testing Nikola's Class 8 FCEV beginning in January of 2022," said Andrea Biagi, President of Biagi Bros. "After logging more than 12,000 miles, we are extremely pleased with the performance and specification of the trucks, and we are ready to move forward to officially build our zero-emission fleet later this year."
Nikola recently announced that it has received a California Air Resources Board (CARB) Zero-Emission Powertrain Executive Order that is a requirement for the Nikola Tre FCEV to be eligible for CARB's Hybrid and Zero Emission Truck and Bus Voucher Incentive Project (HVIP) program.
Upon final HVIP approval, purchasers of the Nikola Tre FCEV in 2023 may be able to qualify for California's state-based incentive valued at $240,000 per truck; $270,000 per truck for drayage fleets; or up to $288,000 per truck for fleets with 10 trucks or less, performing drayage operations, and located within a disadvantaged community area. Eligible non-drayage fleets may secure up to 30 HVIP vouchers and drayage fleets may secure up to 50 vouchers.
In addition to the funding provided by HVIP, purchasers of Nikola's Tre FCEVs will also qualify for an additional $40,000 clean commercial vehicle tax credit in 2023 from the federal government due to the passage of the Inflation Reduction Act.
With a range of up to 500 miles and an estimated fueling time of less than 20 minutes based on technology improvements, the Nikola Tre FCEV is expected to have among the longest ranges of all commercially available zero tailpipe emission Class 8 tractors while realizing weight savings when compared to BEV Class 8 trucks with similar range. The Tre FCEV is well-suited for a variety of applications ranging from drayage and intermodal to metro-regional truckload and less than truckload to certain specialized hauling use cases.