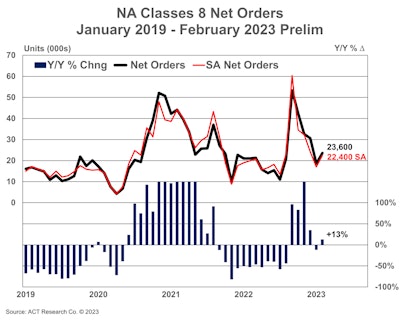 Class 8 truck orders rose in February – the first climb in five months – reaching 22,800 units, according to preliminary data compiled by FTR.
February order activity was 13% above January and up 10% year-over-year.
"Orders likely are below build rates for the month, and FTR would anticipate backlogs to slip slightly. However, backlogs remain at high levels and production slots are mainly filled through Q3 of this year," said FTR Chairman of the Board Eric Starks. "As such, the February performance is a good sign for the industry as fleets continue to order equipment."
Over the past year, total net orders reached 303,000 units – a strong number in any market, Starks said. "However, given the uncertainty in the economy, this is an especially welcome sign that demand has not collapsed and that fleets still have access to capital," he added.
February's total suggests there may be a stabilizing in the low 20,000-unit range, Starks said, noting that order activity over the last six months has been strong at an annualized rate of 413,000 units.
ACT Research Vice President and Senior Analyst Eric Crawford added that given how robust Class 8 orders were into year-end, coupled with cautious readings from the ACT Research Class 8 Dashboard, seasonally adjusted orders are likely to fall into a range of 15,000 to 20,000 in the near term.