Trucking news and briefs for Thursday, Feb. 16, 2023:
Trucking conditions improved in December with decline in fuel prices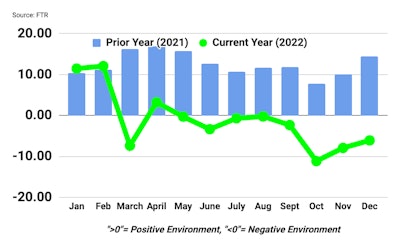 Conditions for carriers in December improved to -6.1 from November's -7.94 reading, according to FTR's Trucking Conditions Index (TCI). FTR noted, however, that the small gain resulted solely from a sharp drop in diesel prices during the month.
Changes in all freight-related TCI components – freight volume, capacity utilization, and freight rates – were unfavorable for carriers in December. The rates component was the most negative it had been since May 2020.
The outlook is for mostly similar TCI readings through 2023 with no positive readings expected until late 2024. "Our forecasts indicate continued deterioration in overall market conditions for trucking companies, but uncertainly is still surprisingly high considering that we are nearly three years past the pandemic-induced contraction," said Avery Vise, FTR's vice president of trucking. "Even as record numbers of small for-hire carriers exit the market, payroll job growth in trucking continues to rise, suggesting that overall driver capacity is not falling much – if at all – so far."
Vise added that while that trend looks good in the near term, "it could limit carriers' margin gains in the next upturn."
Freight rates, Vise noted, are weakening, but contract rates remain "significantly higher than the peak of the last cycle. Carriers' ability to manage costs always is key to profitability but perhaps never more so than now."
ATRI seeks feedback on marijuana legalization impacts
The American Transportation Research Institute (ATRI) on Wednesday launched a survey seeking motor carrier input on the impact of marijuana legalization on the trucking industry's workforce.
The research was identified as a top priority in 2022 by ATRI's Research Advisory Committee and will expand on ATRI's 2019 study on the impacts of marijuana legalization on roadway safety.
Motor carrier staff and executives familiar with driver recruitment, retention and drug testing practices and trends are asked to share their input through the online survey. The research will provide insight into the specific challenges motor carriers face as the use of recreational marijuana grows in the U.S.
The findings should also provide insight into approaches the industry can take to address these challenges, ATRI said.
"States are moving quickly to legalize recreational marijuana use," said Fred Fakkema, Vice President of Safety and Compliance at Zonar Systems and Chairman of the American Trucking Associations' Law Enforcement Advisory Board. "This rapid change directly impacts fleets and their workforce; ATRI's research will help quantify those impacts."
ATRI's confidential survey is available online here and will remain open through March 17.
Atlas Van Lines named new SVP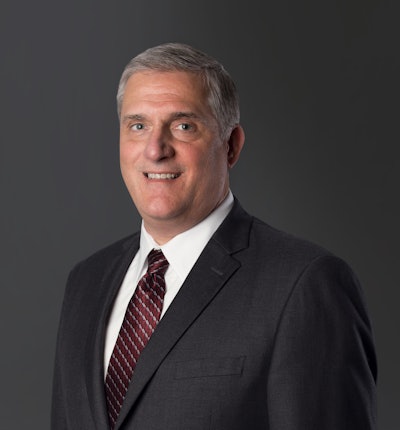 Atlas Van Lines (CCJ Top 250, No. 63) has named Jeff Schimmel Senior Vice President of Operations.
In addition to his more than 30 years of experience working within Atlas and the household goods transportation industry, Schimmel has also been at the helm of the organization's most prestigious honors including the Milton M. Hill and Atlas World-Class Commitment quality awards.
"Jeff's experience supporting our Agent network and professional van operators has been invaluable to the success of our company," said Ryan McConnell, President and Chief Operating Officer of Atlas Van Lines. "We are confident his work will continue to position Atlas as a world-class company with quality operational service."
Over the past three years, Schimmel has worked to optimize internal processes through team building and a focus on finances. He has overseen the implementation of a new safety and compliance team, along with a multi-faceted plan to improve Atlas' overall safety initiative. In alignment with Atlas Van Lines' award-winning customer service, Schimmel recently executed a strategy to streamline the Atlas network to better serve Agents and customers.
In his new role, Schimmel will concentrate on capacity growth and continue to position Atlas as a world-class company through quality operational service.
Hino announces new U.S. management structure
Hino Motors Manufacturing U.S.A. announced Tuesday a new management structure that places emphasis on North American expertise and a refined focus on responsibilities.
The new management team, including President, Chief Operating Officer and Executive Vice President, represents decades of experience in the U.S. and brings together a formidable knowledge of manufacturing, compliance and strategy from Hino globally, the company said.
Masamichi Mizukoshi, a veteran of the automotive industry, was appointed to President and CEO. Mizukoshi has held a number of domestic and international leadership positions over his 35-year career at Toyota Motor Corporation. Most recently and since 2019, he served as Chief Operating Officer of Hino Motors Manufacturing U.S.A.
Appointed to Chief Operating Officer and Executive Vice President for Toyota Business was Davey Jung. Jung has held numerous roles at Hino Motors Manufacturing Michigan offices throughout the last decade, most recently as Executive Vice President, SVP for Purchasing, Sales, R&D and Corporate Strategy. Previously, during a 13-year period at Dana Incorporated in Ohio, he held positions including Chief Engineer and Director of Sales.
Finally, Masaki Hanayama was appointed to Executive Vice President. Hanayama will oversee Hino Motors Manufacturing Truck Business, Production Planning Control and R&D. Most recently, he served as Product Strategy Department Officer for Hino Motors.