Despite challenges getting certain parts and components most of last year, the truck service repair business was booming, according to survey data compiled by Fullbay, a provider of heavy-duty truck and trailer repair shop management software, in partnership with the Technology & Maintenance Council.
Fullbay queried more than 1,600 individuals from commercial freight, logistics and repair industries to aggregate and compile its 2023 edition of The State of Heavy-Duty Repair report. The company's findings were released Sunday at the Technology & Maintenance Council Annual Meeting and Expo in Orlando.
The labor costs up, most going to tech pay
More than three-quarters (76%) of respondents said they raised labor rates in 2022, with the Southwest U.S. region leading the charge ($13.10/hour). Despite coming in with the highest overall hourly rate, the Western region reported the lowest average rate increase ($10.20/hour). About 92% of the shops that did raise labor rates passed a pay raise along to technicians. Among the shops that didn't raise labor rates, 42% gave their technicians a pay bump anyway.
Hourly rate leads the way in how technicians are paid at 46%. Flat rate (28%) and a combination of flat and hourly (23%) make up most of the balance.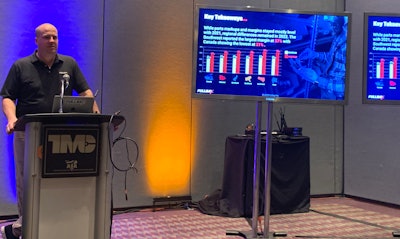 "There's a growing movement to pay technicians on a per-job basis rather than a per-time basis," said Patrick McKittrick, Fullbay CEO, noting an uptick in flat rate billing and pay.
The highest paid techs in the country come from the Southeast, averaging $46/hour. A close second is the West at $44.60/hour, followed by the Northeast at $44.50 and the Southwest at $41.90. The Midwest by far brings up the rear with regard to technician pay – almost $11/hour less than the top paid techs at $35.10/hour.
Technicians are finding themselves on the clock for long periods, with 45% of Fullbay's technician respondents self-reporting working more than 40 hours per week, and 23% working more than 50. The most tenured techs are the ones are feeling the brunt; 46% of diesel techs with at least 20 years under their belt are working 50-plus hours a week.
The highest average labor rate – by upwards of $24/hour – can be found in the Western U.S ($137/hour). The other four regions are separated by no more than $2/hour: $113/hour in the Midwest and Northeast; $115/hour in the Southwest and $114/hour in the Southeast, according to Fullbay.
Spiking labor rates are translating to the bottom line too. As of 2022, most shops (32%) were making between 11% and 20% net profit, according to Fullbay's report. Another 20% claimed net margins of 21% to 30% and 19% claimed margins of 6% to 10%. Only 1% reported a net loss.
Fullbay uncovered that in span of two years – from 2020 to 2022 – more shops were paying closer attention to the books, with just 10% saying they didn't know their shop's profitability compared to 20% two years earlier.
Technician efficiency and utilization were high. Efficiency reached an overall average rate of 84% while utilization hit 66%, and the more techs a shop has, the higher its metrics for efficiency and utilization.
[Related: VMRS report shows slowing increase in service costs]
The average invoice last year was $965, according to Fullbay, and repair was a seven-figure annual business for 49% of respondents. Revenue exceeded $1 million and reached upwards of $2 million for 25% of survey participants. Another 13% claimed revenues of more than $2 million up to $4 million, and 11% saw revenues in excess of $4 million. Revenues saw an overall 19% increase in 2022 compared to 2021, according to respondents, thanks in part to a shortage of new trucks and fleets using older trucks for longer periods of time.
McKittrick noted that 89% of respondents have a website and get between 11-15 leads each month from their site. Fullybay also found that 20% of shops spend between $16,000 and $25,000 annually on marketing.
The shops that offered more services, understandably, had more revenue. However, there were two thresholds in that shops offering more than three services were more likely to reach $500,000 in revenue, and offering more than seven services was the gateway to crossing $2 million. Shops capable of servicing between four and six vehicle types was the sweet spot for maximizing revenue, and adding more vehicle types didn't compound revenue potential. Shops capable of serving seven or more vehicle types had the same revenue potential as shops servicing three or fewer types.
In-shop repair was the most commonly offered service (56%), followed by mobile service (53%). Heavy, in-frame repair (46%), 24/7 service (40%) and welding and fabrication (34%) round out the top 5.
A technician generates between $10,000 and $15,000 per month in revenue, according to 17% of Fullbay's respondents. Next, at 16%, was between $5,000 and $10,000, followed by 15% who said $15,000 up to $20,000 per month. Mobile service had the highest average potential at between $20,000 and $30,000 per month, while internal fleet repair was the lowest at $5,000 to $10,000 per month.
You can download the full free report here.
A few other findings in Fullbay's report:
• Only 5% of respondents were 24 years old or younger. The majority (75%) of respondents were between the ages of 25 and 44. Just 9% were 55 and older. Nearly a quarter of respondents were women. About 20% of the women who responded handled marketing for a repair shop; 18% were in office manager/accounting roles.
• The average fleet manager responding to the query was 43 years old and had 20 years experience. The youngest (and greenest) role in the survey was marketing (36 years old and 10 years experience). Age-wise, executives and mobile technicians also averaged 36 years old but brought more experience to the table – 11 and 12 years, respectively.
• 16% of respondents had been in business two or fewer years, but the lowest percentage of respondents was the group that would have been in the business the longest. Just 10% had been in business 30-plus years.
• Nearly half (49%) of all shop work is scheduled with the balance being requested or emergency work and well over half (59%) of the work performed is repeat business. The older shops performed particularly well in customer loyalty with 77% of their business being repeat customers.
• Just under half of respondents have spent almost their entire career with one shop.
• Only 21% of technician respondents attended a trade school.
• 46% of respondents said that due to parts and components shortages, they purchase "what is needed and a little more." Just 12% said they purchase only what is needed. Another 62% said they are frequently or very frequently seeking parts outside of their usual vendors, up from 45% a year earlier.
• 88% of respondents pass a shop fee on to customers to cover the cost of shop supplies.