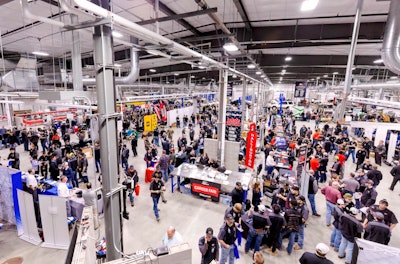 WyoTech
Tighter emissions regulations may be signaling the eventual demise of diesel, but in the meantime, demand for technicians who can work on the nation's leading workhorse powertrain remains very strong.
Wyoming-based WyoTech continues to see a big demand not only for diesel techs but for the other trades as well.
"The need for technicians and skilled trades is huge right now," said WyoTech President Jim Mathis. "I don't care if you're a plumber, electrician, mechanic or technician, people need tradespeople."
WyoTech had a record turnout of companies at their February job fair looking to hire their graduates to fill jobs in diesel, automotive and collision. Ninety-six companies conducted a total of 907 interviews.
Demand is highest for WyoTech's diesel and automotive techs who are ready for a hot job market in less than a year.
"There is no better sense of accomplishment for the team at WyoTech than seeing our graduates get hired by these great organizations after as little as nine months of training," said Ashley Chitwood, WyoTech's vice president of marketing.
[Related: Tech pay on the rise]
Chris Barton, campus director at New Village Institute in Pennsylvania, said it, too, is continuing to see big demand for diesel techs.
"The demand for techs continues to be extremely high and is predicted to steadily increase with retirements and industry expansion in all vehicle sectors. We haven't talked to an employer yet that doesn't have need," Barton said. "Generally, the need is proportional to the size of the company. Small, independent, single-location-type shops generally need at least two to three techs. Larger organizations with multiple locations and a more regional or national footprint have needs that reach into the thousands."
With such big demand, it's not uncommon to see shops recruiting directly from high schools, Mathis said.
OEMs are also stepping up recruiting efforts. Earlier this month, Lincoln Technical Institute announced a partnership with Peterbilt Motors Company to offer a specialized diesel training program at Lincoln's historic Nashville, Tennessee, campus. Peterbilt dealerships will cover the cost of the 12-week training program.
Demand for diesel techs at Lincoln's campus in Indianapolis also remains strong.
"Demand is massive. It's far more than what we can possibly meet," said Lincoln Tech Indianapolis campus President Brent Jenkins. "There's not a lot of schools that teach diesel. Companies are trying to pull people straight out of high school into the workforce. Some of them have had minimal skills they picked up on the farm or with a family member."
Jenkins said demand in diesel transportation is so high that some service centers will recruit fresh faces that show some mechanical aptitude even though they've had no experience working on diesel powertrains.
"They're so desperate that it may not be the ideal candidate, but they'll settle at this point because the demand far outweighs not just what Lincoln Tech can provide, but all the tech schools," Jenkins said. "We just can't keep up."
Mathis is feeling more optimistic about student recruitment thanks in part to trade advocacy groups like the Mike Rowe Works Foundation and others that have been helping to attract more talent by educating others about attractive wages and low upfront costs for votech education and apprenticeships versus a four-year college degree.
Mathis pointed to a recent article in the Wall Street Journal, which found that college enrollment has dropped roughly 15% in the past 10 years while apprenticeships, including entry-level diesel tech jobs, have grown by more than 50%.
"Tides are changing slow, but sure," Mathis said.