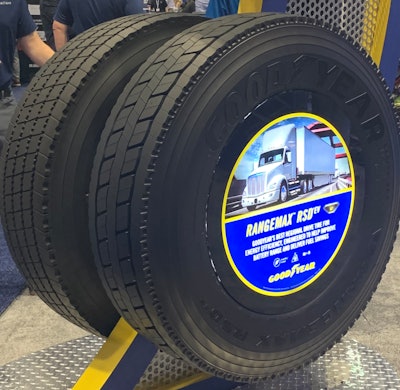 Goodyear Tire & Rubber Company at the Technology & Maintenance Council Annual Meeting and Expo in Orlando Tuesday introduced its new RangeMax RSD EV – the company's first electric vehicle-ready tire compatible with EV, gas- and diesel-powered regional vehicles.
Designed to handle the higher load capacities of EVs – and the first regional drive tire embossed with Goodyear's "Electric Drive Ready" designation – Goodyear engineered its RangeMax RSDEV with ultra-low rolling resistance to maximize the efficiency of the drivetrain, regardless of how its powered.
"With the continued growth we're observing in the regional EV segment, changing powertrains and fleets' cost-savings and sustainability priorities, Goodyear recognized an opportunity to provide fleets and original equipment manufacturers with a tire designed for the unique needs of these vehicles," said Goodyear North America Senior Director or Commercial Marketing Tom Lippello.
RangeMax RSDEV is the newest addition to Goodyear's EV tire portfolio. In response to increased usage of electric vehicles in parts of the industry, Goodyear last year introduced its first commercial truck tire with "Electric Drive Ready" designation, Endurance RSA ULT. In 2022, Goodyear also expanded its line of ElectricDrive tires built for passenger and high-performance vehicles to cover 44% more battery electric vehicles operating in the U.S., the company said.
Available now in size 295/75R22.5, Goodyear says additional features and benefits of RangeMax RSDEV include Three-Peak Mountain Snowflake and Mud and Snow designations; SmartWay-verified premium casing construction, providing toughness and durability to maximize retread-ability; and enhanced tread pattern designed for high torque applications and an optimized footprint shape for even treadwear.