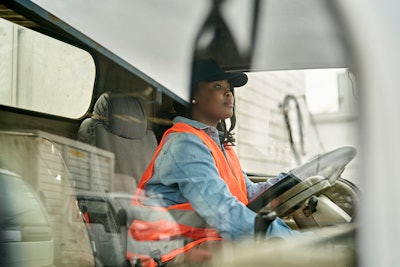 Among the display of its product suite, including its most recent acquisition of Spireon, was Solera's new product offering: SmartDrive Protect.
Vehicle lifecycle management software provider Solera Holdings LLC revealed its newest product at Solera Outlook 2022 in New Orleans last week, along with enhancements and a new tool within its Omnitracs One platform.
SmartDrive Protect captures continuous video and uses artificial intelligence (AI) technology to identify driver events like harsh acceleration and braking, cornering, speed limit violations, lane drifting, tailgating, stop sign violations and distracted driving. These events are then transferred into a coachable event workflow to ensure drivers receive feedback and complete coaching exercises to improve driving behaviors.
The video-based safety solution is purpose-built for small fleets and provides accident exoneration, among other things.
Solera said in a news release that studies show that passenger vehicle drivers are responsible for 70% to 75% of fatal car-truck crashes, but the blame is typically placed on truck drivers. The high costs associated with accident settlements or, worse, nuclear verdicts, have resulted in small fleets closing their doors. Cyndi Brandt, vice president of product marketing at Solera, said this new product could help reduce settlements and nuclear verdicts.
Jason Palmer, vice president of dealer solutions at Solera, told CCJ he has been writing depositions on cases like these for 15 years, and a common question is why an involved fleet doesn't have cameras on its trucks.
"Fleets who've invested in these exoneration tools help avoid not only what has been the cost of funding these cases but avoid the risk and exposure to punitive damages that can put a fleet out of business or make them uninsurable, which can have catastrophic effect on their business," Palmer said.
Video of driving events is critical not only for exoneration but also commendation when commercial drivers drive defensively and save lives.
SmartDrive Protect also allows fleets to reward safe driving and offers tools to coach and correct unsafe driving habits.
Key features of the new technology include AI for both road- and driver-facing cameras that monitor factors such as driver head pose, allowing fleets to see when a driver exhibits distracted behavior and enforce policies around distractions. When the ignition is on, front-facing and driver-facing cameras are always on, recording all events, allowing fleets to host a virtual ride along or pull video from a precise time and location of a specific event. It also includes a dashboard with all data, allowing fleets to easily spot trends from a high-level down to individual trips and drivers. And it identifies risky events or trends and supports personalized closed-loop coaching sessions for drivers.
New route modeling
Solera also introduced a new route modeling tool available on its Omnitracs One platform that enables large enterprise customers to work through "what-if" routing scenarios without affecting the operational production routes already in place.
The tool allows drivers to provide real-time feedback to dispatchers so they can work together to create routing plans in a more time- and cost-efficient manner.
Todd Bransford, vice president of product management at Solera, told CCJ the new route modeling tool was born from Solera customers who wanted a better communication method with the person behind the wheel.
"You have 1,000 deliveries to make; you've got 50 trucks. How do you do it as efficiently as possible? How do you show up at the customer site when you told them you'd show up? You have all these roads and permutations and combinations. It's a really hard problem to solve just because there's so many possible answers," he said. "With our system, we could often drive (fleets') costs significantly down by the automation we provide, and yet we still have drivers who will go out and say, 'I didn't like that route. I could drive it better, cheaper, faster,' and they want to make a suggestion back to the router. Before, they would come back and have to have a manual conversation that probably never got written down. Now, there's a way for the drivers to input that information … that the router can evaluate."
The tool allows drivers and fleet managers to test changes to stop sequences, route start times, pre- and post-trip time, breaks and layovers to measure a suggested route's impact on cost and service windows.
Fleets can simulate the positive or negative impact of route changes with an enhanced route scorecard, providing instant feedback supported by real-life data, and they can work through those simulated routes before or after a route is performed. Solera said it also saves thousands of hours per year in labor by streamlining communication, eliminating the use of hardcopy scanning, phone calls, instant messaging and email communication between routers and local facilities.
And Bransford said the best part is the system gets smarter by crowdsourcing information from drivers – who know and understand their territory – when they provide feedback on routes.
Omnitracs already has a significant amount of data surrounding the locations to which drivers travel that it has been collecting for years, like places truckers can park overnight or whether there are public restrooms at their next stop. Bransford said the system uses data from GPS signals to give drivers the most common ingress and egress points to locations so they can save time by navigating themselves most efficiently to the dock.
The web-based application is available to Omnitracs One customers.