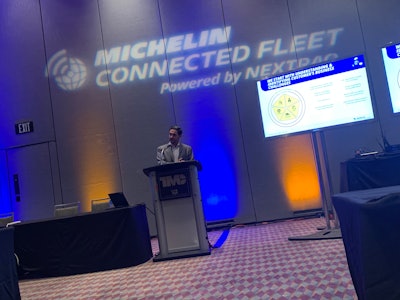 Michelin is launching of its Michelin Connected Fleet platform in North America, the company announced Sunday at Technology & Maintenance Council Annual Meeting and Expo in Orlando.
Michelin Connected Fleet receives and processes data from roughly 300 million trips per year for 600,000 vehicles operated by 70,000 customers, mostly in Europe and Latin America. Michelin's 2017 acquisition of NexTraq enabled the company's entry into the North American telematics market.
The move bundles many of Michelin Group's fleet management services (truck and management, electronic logging devices, International Fuel Tax Agreement compliance, and driver safety) into a single entity.
Michelin Connected Fleet President and COO Andy Beasley said the platform works with many different telematics providers.