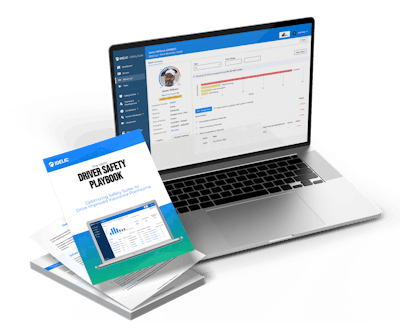 Idelic
Amazon's Alexa can order a product online for its user. That's artificial intelligence (AI). Alexa can also recognize users by their individual voices. That's machine learning (ML).
Just as technology has evolved to provide everyday consumers with an electronic assistant, so goes the evolution of transportation technology using AI and ML to change the face of commercial driver safety training.
Early safety programs were reactive in nature. One driver gets a speeding ticket, and another has a backing accident. The result is all drivers get dragged into the training room to go over those issues. But now the industry has telematics and dash cameras with AI to help safety personnel target drivers based on their specific issues. Companies like Idelic are taking things a step farther with ML to help carriers not only mitigate accidents but potentially prevent them altogether, and predictive analytics is the key going forward.
Driver scorecards aren't enough anymore, said Brian Filip, chief technology officer and head of product at Idelic, during a recent Truckload Carriers Association webinar that focused on the evolution of driver safety programs.
"A standard scorecard is not going to cut it. There's too much data and too many ways that those data can interact with each other, and there are too many false assumptions that we as people make about the data. So we put it into machine learning to actually see what correlates to risk," Filip said. "Predictive machine learning is the technology that all of us can use to find these patterns and help us figure out what to do with all this data and what the right interventions are."
Mike Lasko, director of environmental health, safety and quality at Boyle Transportation, said prior to video with AI that could alert to things like driver fatigue, safety managers would get massive loads of data but no context. A driver may have had a hard braking event, but the data didn't present whether that was bad because the driver wasn't paying attention or good because the driver did it to prevent a crash because someone cut him off in traffic.
"You lacked that context to work proactively with the drivers," Lasko said. And he said that's important because failing to do so can lead to higher turnover. "As a professional driver myself, there's nothing more irritating to a driver than when you give them some training on some stuff that they don't have a problem with … as opposed to some training that is really individualized and dedicated to an issue they have … because the driver is saying to themselves, 'Geez, I'm sitting here for two hours doing this training, and now I'm going to miss seeing my kid's ballgame.'"
Scott Reagan, director of health and safety at TForce Freight, said a targeted driver coaching approach can help not only with retention but also create efficiency. ML allows safety managers to do that by analyzing data collected from these systems to identify patterns in driver behavior so they can pinpoint specific issues per individual driver.
"It's giving us the information we need to address the problems, make informed decisions, focus on those at-risk behaviors that are resulting in losses. We're able to identify those drivers," Reagan said. "A lot of times drivers … get complacent. They don't understand that, 'Maybe I'm not as good as I think I am. Here's the data to show that maybe I do have a following distance issue or maybe that roadside inspection that showed an unsafe behavior is really showing through in some of the other data that we're getting.' So it's helping us move past that complacency, helping everyone in the operation realize there's an issue … and we need to get ahead of it instead of talking after a crash."
In addition to the ML technology, Idelic provides fleets with a playbook to help them provide prescriptive coaching to drivers individually based on the insight the predictive analytics offers. The company also created Driver Watch List, which uses ML to identify drivers most at risk of getting into a preventable crash so prescriptive coaching can be administered.
But that's also an area where ML could improve, Filip said.
"It's awesome that we have access to this data now, and we're starting to put these meaningful and accurate predictions out there of how likely something bad or good is going to happen, but where we need to go beyond that is what is the most effective intervention that you can deploy and how do you know, based on that specific driver and specific situation, what works and what doesn't work," he said. "I think as an industry we're still lacking quite a bit there. That's why it's an area where Idelic is investing a lot. Having that kind of standardized approach to coaching and mentoring allows you then to measure efficacy of a certain intervention versus another so you can start to get more prescriptive. We can tell you not just that there's a problem but what the best thing is that you can do about it."