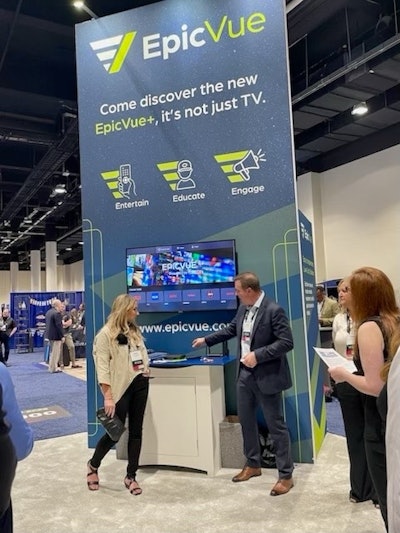 Brad Bentley
Trucking industry in-cab entertainment provider EpicVue has launched an expanded version of its platform, transforming from a satellite television company to a content delivery company to enhance the driver experience.
With EpicVue+, subscribers get a dedicated fleet channel and an interactive training platform in addition to traditional TV content, which includes DIRECTV's live and on-demand premium content and more than 80 music channels. EpicVue+ has introduced industry-based education platforms, including Luma and CarriersEdge, and with the dedicated fleet channel, carriers can record messages to deliver to drivers, from fleet news and employee recognition to company events, birthdays, anniversaries and more.
EpicVue CEO Lance Platt said the entertainment features alone are worth more than the monthly fee, but the ability to showcase company culture is invaluable.
"The part that we're really excited about is fleets can now more effectively engage their drivers with our engagement platform, so they'll be able to highlight what's going on at the fleet level, and the drivers will be able to see that while they stop and take a break from whatever they're doing," Platt said at the Truckload Carriers Association 2023 annual convention in Orlando on Sunday when the company announced the launch of EpicVue+.
With this launch also comes a new price structure.
The previous solution, which included a satellite dish on the truck, was priced at $59 per month with a five-year contract. The price has dropped to $29 per month with no commitment agreement – just an up-front cost of $99 for a small set-top box that acts as the platform for apps. Platt said because of supply chain constraints, boxes will not be available for installation until May 1, but EpicVue is now taking preorders.
"It's a big deal, because the industry has not been able to benefit from this kind of pricing for this kind of content ever before," he said.
And because EpicVue has switched from a satellite receiver to an IP-based platform, the company can also now track metrics to deliver insight on what programs and features drivers interact with the most.
Also with the IP-based platform, EpicVue+ enables carriers to integrate their own apps and any features therein from their in-cab TV devices.
"We've set this up in a way to where the drivers can use their standard television – usually it's a 24- or 30-inch television," Platt said. "It's a lot better than using a small 4-inch phone to be able to do that training, and it allows (drivers) to connect a keypad and mouse to be able to facilitate more of an office-like, desk-like experience inside the cab."
If a fleet doesn't have its own app, EpicVue has created a portal for them, and the fleet can send content to EpicVue to upload; they can have their own home screen that includes branding with their logo, a tagline and other customizations.