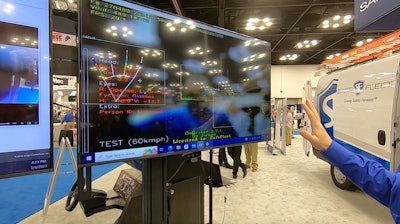 Commercial Carrier Journal
Biometric video monitoring of drivers shows real promise to help build safer driving habits, but it's also raised privacy concern among drivers and unions.
Through Safe Fleet's new MobileMule AI, video recordings of drivers can be blurred or blacked out entirely while still capturing driver movement and giving fleets the data they need to help address and improve driver safety.
MobileMule AI was one of three new products unveiled by Safe Fleet this week at The Work Truck Show in Indianapolis. The Missouri-based company also announced its wireless rear-view camera system, Air Vue, and FoldPro Shelving for delivery vans and box trucks.
MobileMule AI captured a lot of interest at Safe Fleet's exhibit given its new blurred and blackout features, which still keeps up with driver biometrics without actually showing the driver on screen.
Safe Fleet executives report that the technology is catching the attention of unions and fleets that wish to balance fleet safety needs without rocking the boat over driver privacy concerns.
[Related: New twist on driver safety training through predictive analytics]
Joseph Schechter, vice president of Safe Fleet subsidiary Rear View Safety, said they're currently working with "one of the largest fleets in the U.S. that currently has no recording devices in their vehicles today, but because of the [blackout] feature they're actually demo'ing it."
Driver biometrics remain intact during blurred and blackout modes so that there's no mistaking who's behind the wheel. The AI-Powered Dual Dash Cam detects and alerts for drowsiness, sleeping, seat belt usage, distracted driving, and phone usage before uploading to the cloud, while a road-facing camera records real-time alerts.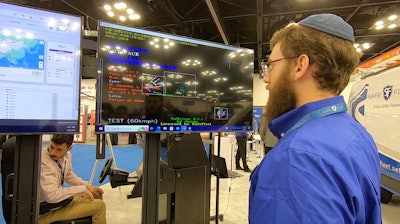 Fleet managers are notified of any driver habits or incidents that need to be reviewed through Jungo's VuDrive cloud management platform, which provides statistics and insights that are utilized to proactively improve driver behavior. The system's business model is subscription based.
Fleet managers can make adjustments to MobileMule AI to help reduce false alerts, like when a driver takes a sip of coffee or briefly looks over and reaches out to the dash to make a change in HVAC settings.
"A fleet manager will have the ability to set the events that they want recorded," said Mike Wineberg, director of Rear View Safety's DVR division. "You can also go in and process which events are correct events and which events you don't want to count against a driver's score. So if you're okay with a driver drinking their coffee or eating, you can actually go in and cancel that event so that it's not actually affecting the driver's score."
MobileMule AI features:
Facial Recognition Software: Identifies drivers and tags them to their routes/vehicles.
Real-Time Capabilities: Real-time alerts, and driver scoring capabilities support training, productivity, and safe-driving initiatives.
External Events: Detects and alerts drivers of sudden braking, excessive acceleration, and harsh cornering, with all events recorded and uploaded to the cloud.
Multi-Level Privacy Option: Offers blurring or total blackout options that protect drivers' privacy at all times.
Cloud Storage: Incident video and metadata are auto uploaded to the cloud and used to give driver scoring, coach safer driving, and exonerate drivers.
Emergency Aid: Features an easily accessible panic button.
Safe Fleet also rolled out Air Vue, a wireless camera system for the back of trailers that sharply reduces installation time over a conventional wired system.
"We've been supplying wired systems for over 10 years and they work extremely well but they require over, in some cases, eight hours of installation for a tractor, which has really become cost prohibitive to widespread adaptation of that product," said Steve Keifer, Safe Fleet's senior vice president for commercial vehicles in North America.
Keifer said install time for Air Vue is roughly three hours. The system allows for up to four sensors to be installed in the bumper to allow for detection of objects up to eight feet away. The system will eventually be expanded to allow for two more cameras.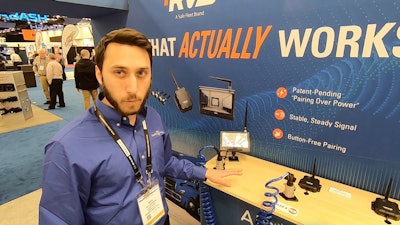 Air Vue features:
Instant Pairing: Patent pending Pairing-Over-Power enables camera + monitor coupling via vehicle's electrical system.
300-feet Transmission: Strong wireless signal strength ensures up to 300 ft of distance.
Trailer Swap: Easy transfer from trailer to trailer with effortless pairing.
Robust Built: Durable metal housing & IP69K rating allows for external installation.
Cost Savings: Reduces installation costs and "out of service" time by up to 70%.
Safe Fleet expanded its product line up in last-mile delivery with FoldPro Shelving which is available for Transit, Sprinter, Promaster and box truck vehicles. Features include:
Safe, Intuitive and Ergonomic Operation: Enjoy effortless one-hand operation with a dependable latch mechanism that holds each shelf securely in place, whether open or closed.
Driver Fatigue: Reduce driver distractions by minimizing vibration and noise with our quiet spring retention shelf-latch system.
Patented Durable Design: Strong, yet lightweight aluminum design yields increased payload and achieves 60 lbs. per linear foot weight capacity.
Flexible Storage: Maximize available space with the option to stow shelves in a vertical position when not in use.
Quick, Easy, and Adjustable: Avoid installation headaches with assembled components and convenient shelf height adjustment capability.