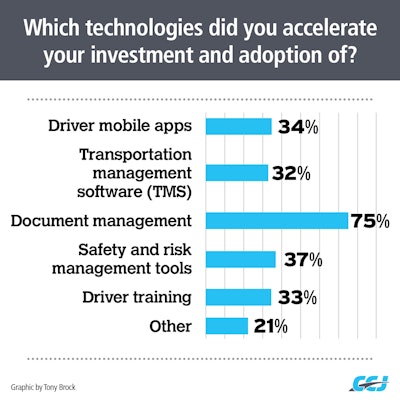 It seems now like a lifetime ago, but I rarely worked from an office pre-COVID. I had one. I just never saw it.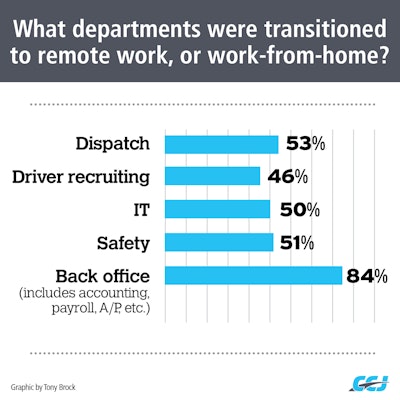 I was on the road just about every other week, and in between airports I had the benefit of working from home. The transition to remote work over the last year and half might have been the least difficult part of my COVID-era experience.
By March 2020, the home-office experience became more common and during the throes of the pandemic, 71% of the U.S. labor force transitioned to remote work, according to Pew Research.
Transportation employees were not immune. Either voluntarily or thanks to local/state guidelines mandating employees keep at least six feet between each other, fleets were rewriting office policies and sending employees home.
According to a recent survey conducted by CCJ, 47% of fleets transitioned at least part of their non-driving employees to working from home and at its peak, more than half of the staff was working remotely. Back-office personnel (accounting, payroll, accounts payable, etc.) led the way in transition with 84% of respondents saying these employees were tucked away in home offices, followed by dispatch (53%), safety (51%), and IT (50%).
Almost 20% of our respondents said the majority of their employees remain remote, but the bulk (26%) worked remotely from between six months to a year. There is a sense of normalcy returning to the workplace as 48% of respondents say they no longer have any employees remaining remote, and only 18% plan to allow home-based employees to stay there indefinitely. Collectively, 26% of respondents expect to have all remote employees back in the office by the end of the year, but only 2% said vaccination status would play a role.
I'm not sure I even knew what Zoom was in 2019, but almost 60% of respondents said platforms like Zoom, Slack and Teams improved communication. Some fleets also noted an improvement in the amount of work accomplished (22%) and improvements in quality (24%), but said – to the tune of about 55% – that remote meetings were less impactful.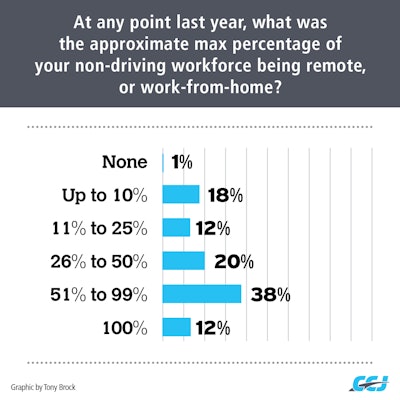 "There really is no substitute for in-person collaboration, such as periodic team meetings, outings or company conferences," said Tom Flaten, vice president of sales for Thorn Valley Safety, a provider loss control services to insurers and general agencies in the transportation sector. "The overall affect of those dynamics missing for so long is, I believe, yet to be played out."
Technology might have made meetings easier in some regard, but 39% of CCJ respondents noted poor communication between departments among the employees working from home.
COVID created an "adapt or die" business environment, which 64% of respondents said caused them to accelerate the adoption of new technologies like document management (75%), safety and risk management tools (37%), driver mobile apps (34%), and driver training tools (33%).
Phoenix Cartage Operations Manager Mary Tuozzo noted it became necessary "to create more documents and spreadsheets to communicate events [and] loads," and that working remotely prompted her company to hasten investments in safety and risk management tools.
While there clearly were some communication challenges and work through-put hurdles to clear, about 84% of our respondents said employees reacted positively to the transition to home-based.
Tony Pagan, safety manager for Grand Prairie, Texas-based carrier Lupus Superior, noted that "less travel ability [afforded employees more time] to take care of things at home while working at home."