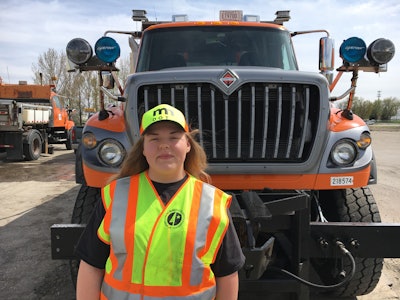 Minnesota Department of Transportation
At Melton Truck Lines (CCJ Top 250, No. 84) drivers can take their home time anywhere in the country. That was a big selling point for Zeno B., a Gen Z driver from Texas that joined Melton at 21 years old in May 2021.
"He has been able to see cities he never thought he would be able to. He said he's able to trip plan so he's able to get into different national parks," Melton Recruiting Manager Delaney Rea said during a TCA webinar this week on changing demographics in trucking where panelists discussed what Gen Z finds appealing about trucking careers, what Gen Z looks for in a job posting that encourages them to apply, and no- or low-cost things that are simple and quick that companies can implement to attract Gen Z – the youngest working generation.
There are currently five generations in the workplace, and for every six retiring Baby Boomers with jobs in skilled trades like truck driving, there are only two workers from younger generations filling those roles.
"As an industry, if we're going to get more people to fill those replacements than say welding or automotive, we're going to really have to draw in Gen Z and really work hard to make a difference in their life through careers in trucking," said Lindsey Trent, CEO of Next Generation in Trucking Association.
Rea said there were other factors that drew Zeno to Melton, like its training and mentorship programs, advancement opportunities in career and pay and the family-like culture, among other things.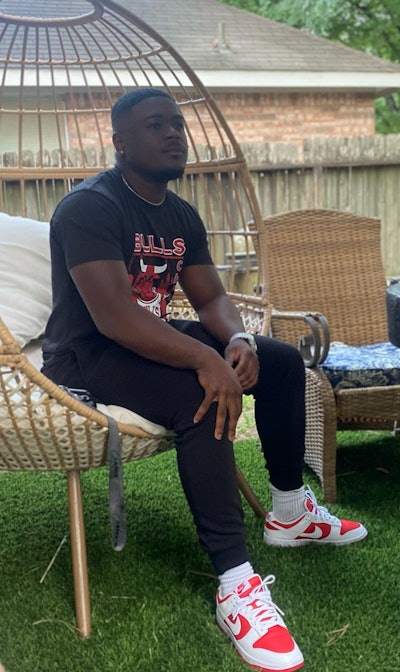 Based on a report by the Nebraska Trucking Association that studied a focus group to determine what Gen Z finds appealing about trucking careers, Trent's organization developed a list of things potential Gen Z drivers care about that included lifestyle, technology, environmental responsibility, giving back and, of course, pay and benefits.
[Related: Recruiters shed light on how to obtain and retain drivers in a demand-driven market amid a driver shortage]
Trent said methods of attracting Gen Z are much different than attracting Millennials and Baby Boomers because they're the most digital and most diverse/multicultural generation, so it's important to keep those things in mind when reaching out to the generation (currently 10 to 25 years old) that will make up the coming years' workforce.
The trucking lifestyle
The nomad lifestyle – living in a van or camper and traveling across the country – has been made popular in recent years by TikTok.
Trent said Gen Z doesn't realize they can do that while making money by becoming an over-the-road driver with their truck serving as a mini house on wheels.
She said companies should post photos on their websites and social media accounts or get those recruits on site to show what the inside of the truck is all about from sleepers to the technology available.
They want to know what they'll be driving and what "creature comforts" it offers, Trent said.
But she said not all Gen Z drivers want that over-the-road lifestyle, so it's also important to prominently illustrate the different driving opportunities your company has from three weeks out at a time, to one week to home every night.
"It's a matter of giving them different opportunities. Do they want to go see the country, and what can they see by being out on the road? Can they bring a pet along with them? Can they have a companion? Or do they want to stay home and have a local job, or maybe they want to be out every other night?" Trent said.
Joplin Manuel, another 21-year-old driver, is home every weekend, which was important to her so she could help take care of her autistic brother. She obtained a CDL at 18 and started out working locally for the Minnesota Department of Transportation. Now she works for Norsemen Trucking and is driving interstate, making the money she needs to support her family.
Pay is another factor to consider, but Gen Z-ers also want to know they have upward mobility – that they can become driver managers, recruiters, load planners, orientation instructors and so on.
Zeno has become a driver trainer since he hired on, for example, because who better to talk about the trucking business than someone who's done it?
Trent said Manuel was nervous about becoming a driver because it seemed scary to drive such heavy equipment, so she recommends offering a mentorship program so new drivers have someone experienced to call on with any questions. She said carriers should play up their safety features as well.
The technology factor
Manuel applied for her job using her phone.
Trent said it's important for carriers to use technology to their advantage to attract younger drivers.
Some tips from the panel included making the application prominent on your website's home page, offering a chatbot for questions, and being involved with social media and job-related websites like LinkedIn, Indeed and Glassdoor.
"It's so important to have lots of information available and be as transparent as possible," Rea said.
Melton's website is the top place people apply, but Rea recommends carriers be active on those other platforms because "you can tell your story of your business on these platforms, or someone else can tell it for you. If you're not on here, you're allowing somebody else to represent your business without your say or without your ability to help track that."
She said Melton asked its drivers who looked up reviews of the company online prior to hiring on, and easily nine out of 10 people raised their hand. Respond to negative reviews on these forums as well because potential employees are watching that too, she said.
Terran English, employee services coordinator at Melton, said video is a big player these days too. He said some of Melton's drivers vlog about their life on the truck, and the company offers incentives for those drivers if someone applies for a job because they saw that video.
Trent said the average Gen Z-er watches three hours or more of videos daily.
"For us as an industry to listen to that statistic and to only have one or two videos on our website, I don't think that's going to do the trick. I think we need to be more video focused," Trent said. "I love the idea of having a video ambassador for your company that can share what they're doing on a day-to-day basis."
Marilyn Surber, transportation adviser at Tenstreet, said the technology aspect goes beyond digital applications, social media marketing and truck safety features. Offering digital processes for drivers to manage their job like filling out documents and communicating with the office is another important factor, she said.
"You have to make sure that you're making those adjustments and adaptations," Surber said.
Trent took it further with autonomous and electric trucks, hydrogen fuel cells and how diesel technicians are using computers to diagnose engine repairs.
"Gen Z wants to see those investments; that's important to them," she said.
Environmental responsibility and giving back
They care, too, about "green" operations.
Trent said Gen Z drivers care about the environment, so it's important to showcase any initiatives your company is working on to be a "clean" fleet. She threw in diversity and inclusion initiatives as well.
"They really want to give back, and they want to know that what they're doing to make a living is something that's contributing to society," she said.
Trent said truck drivers are heroes on the highway, and that can be a huge selling point for driving as a career.
English said Gen Z also has a better understanding of the supply chain because of the COVID-19 pandemic and resulting shortages like the mass toilet paper shortage in 2020.
"If we look at the big picture of that and trucking in a whole, if the driving force stops for a day, we're looking at a total shortage of everything," he said. "This world doesn't move without drivers. We don't have an economy without drivers … I don't think there's a more essential job than our drivers."
In addition to paramedics, police and others, truckers are also first responders to disaster sites, Trent said, hauling in supplies to areas affected by hurricanes or tornadoes.
Drivers also help people on the road.
Melton has had multiple drivers recognized as TCA Highway Angels for saving lives during accidents, so much so that the company created its own program called the Melton Blue Angels in which it recognizes outstanding acts of service from drivers while on the road.
Rea said it's important to spotlight these drivers on social media and websites, and that recognition can help draw attention of recruits.
English also highlighted Melton's participation in Truckers Against Trafficking. The company's drivers are trained to identify red flags surrounding human trafficking because it often occurs at truck stops.
Melton is doing a lot of things to attract Gen Z to trucking, including an apprenticeship.
Rea recommends carriers develop apprenticeship and internship programs and work with local workforce development programs and the VA to attract the younger generation of drivers.
Of Melton's fleet, 55% is made up of Millennials or Gen Zm and Rea said it takes a very different approach.
"The way you go after those generations are a little bit different," she said. "There are some other ways to look at your model and think about how you're highlighting it to the younger generation … It's all in how you can present it to them and highlight different benefits."