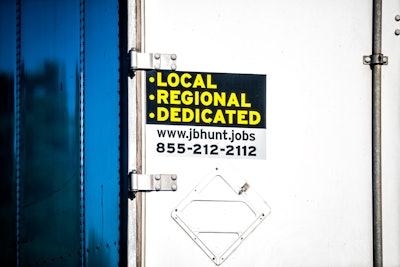 Inflationary challenges bundled with carriers running fewer miles due to reduced demand create conditions where drivers become fixated on pay and are more susceptible to be persuaded by the recruitment efforts of other carriers that promise better wages.
Nearly a quarter of all respondents (23%) to CCJ's most recent What Drivers Want survey of company drivers and leased owner-operators said they would raise pay if they were in charge of a fleet and could do one thing to attract and retain drivers. Another 18% said they would guarantee pay, loads or mileage to make take home pay more predictable.
However, only a combined 10% listed not making enough money (9%) and a lack of loads and miles (1%) as the one thing they dislike most about their job, and that could be because just more than half (52%) of respondents said their carrier had raised pay at least twice since 2020. Another 10% said pay had gone up three times or more.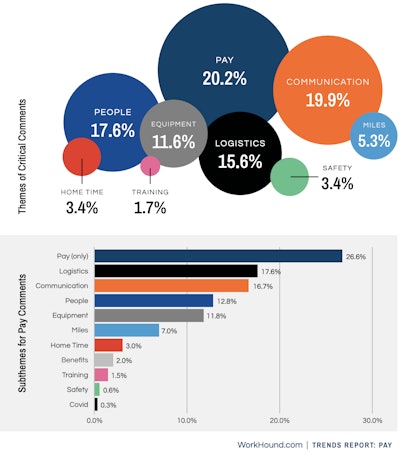 Compensation landed at the No. 3 spot on the American Transportation Research Institute's (ATRI) 18th annual Top Industry Issues report among commercial drivers and No. 4 overall, dropping one spot from the year before, ATRI President Rebecca Brewster said, thanks mostly to the cost of fuel getting so many votes.
While pay itself wasn't necessarily high among drivers' current problems, respondents to CCJ's What Drivers Want survey did – by a wide margin – cite pay as the top reason fleets have a hard time finding drivers: 62% said fleets don't pay enough. Second, at 56%, was a lack of respect for drivers and the job they do, or failure to treat them as part of the team. Lack of home time (50%) was third.
Pay is understandably a large theme in when and why drivers leave a carrier, but more broadly it is often just a straw – one of many – teetering on the proverbial camel's back.
Through September 2022, of the 3,447 comments categorized as "urgent," pay was once again the top critical theme and accounting for 20.2% of all critical feedback received through the WorkHound platform. There were four months (April, June, July, and August) where pay accounted for more than 25% of all critical comments, according to WorkHound's most recent Trends and Pay Report. Of all critical pay comments, only 26.6% of drivers cited pay as their sole reason for leaving, suggesting that pay is not the ultimate dealbreaker in a job change, rather it tends to be a factor that can be exacerbated when other issues arise.
"It's not always an amount issue," WorkHound CEO Max Ferrell said, noting that issues like truck parking, detention and speed limiters, for example – three of drivers' top 5 concerns per ATRI – all directly influence driver pay.
Data compiled by PDA from thousands of phone calls with professional truck drivers during the fourth quarter of 2022 showed that to close the year, compensation issues were drivers' top driver concern – the first time since PDA began collecting driver feedback data nearly 5 years ago that an issue other than equipment has been the top driver complaint.
However, drivers complaining about their rate of pay dropped for the second consecutive quarter, decreasing nearly 10% from Q3 to Q4, and are down nearly 13% since Q1 of 2022 – a clear indication that pay rates are not the problem, rather its the lack of miles causing driver frustration with pay. Indeed, complaints of mileage were up almost 14% from the beginning of last year to the end.
There are a number of factors that influence driver frustration and pay over which fleets have little control, namely equipment and logistics. Equipment issues aren't solely related to downtime and include issues in trailer availability and tractor speed. Logistics reflects the variable nature of loaded miles and includes problems at shipper/receiver facilities.
To offset the things carriers have difficulty controlling, Ferrell suggests going all-in on the things within grasp, like communicating of how a pay plan works and respect as many drivers across WorkHound's platform cite issues like favoritism, attitude or other adverse treatment as a reason they want to leave.
"The collective sentiment that we get that drivers want to have their voice heard is overwhelming," Brewster said.