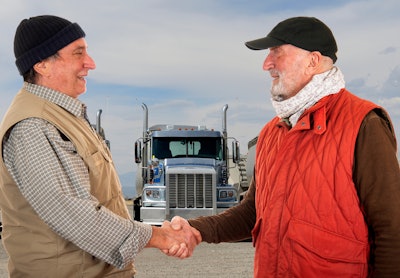 Shutterstock image
Among many things, the pandemic has reminded society how indispensable professional drivers and their work are to our everyday lives. With businesses shut down and people sheltering in place, commercial drivers have gone beyond the call of duty to continue transport of essential goods from warehouses across the country to the shelves of our local stores, hospitals, clinics and front doors.
As the pandemic continues, even with the vaccine roll-out, the demand for the delivery of vital goods and services continues at an unprecedented scale. Our recent analysis found freight, tractor-trailer and long-haul fleets in and around Chicago consistently driving more miles each month than before the pandemic.
As COVID-19 cases spiked in Illinois, fleets drove 20% more in October 2020 than in January, reflecting driving trends we've seen across the country. And this comes at a time when qualified commercial drivers are more scarce than ever, with the American Trucking Associations forecasting the nationwide driver shortage swelling to 160,000 drivers by 2028.
The American Trucking Associations forecasts the nationwide driver shortage will swell to 160,000 drivers by 2028.
Showing appreciation to drivers and empowering them to play a leading role in their own safety and improvement has never been more important. Fleets that are most successful in this area make driver appreciation and empowerment a core part of their culture so that drivers stick around – and remain an asset – for the long term.
Appreciating and empowering drivers: Start with transparency
Transport America, a freight carrier and logistics service provider for a wide range of Fortune 500 shippers, has implemented a number of programs and protocols that contribute to its successful driver-focused culture and strong commitment to safety. According to Senior Vice President of Safety and Security Lisa Gonnerman, transparency and follow-through are at the heart of each.
"We strive to fulfill every promise we make to our team and involve our drivers early in any decisions that will impact them," said Gonnerman. "Safety is not just a lip service for us. It starts in orientation and flows throughout the entire company."
"We strive to fulfill every promise we make to our team and involve our drivers early in any decisions that will impact them. Safety is not just a lip service for us." Lisa Gonnerman, Senior Vice President of Safety and Security, Transport America
In terms of driver empowerment, Transport America has established its drivers as decision-makers within the organization and has put decision-making on safety in the driver's seat at all times. Regardless of the situation – such as weather, road conditions, parking accessibility or general health and wellness – Transport America drivers are the captain of their ship. That mantra carries throughout the organization to maintain the highest level of safety for drivers and motoring public and has contributed to the successful implementation of a variety of safety initiatives and programs.
"We empower our drivers to utilize a great level of discernment and are committed to building successful relationships with them. Additionally, we ask our drivers to communicate any concerns to us and we promise to support them," Gonnerman said. "This goes back to transparency and makes sure it works both ways."
Gonnerman and her colleagues recognize being a professional driver is a hard job that often takes drivers away from their families. Transport America also instituted a dog-friendly policy for drivers, allowing them to bring their dogs in the cab for companionship during their trips. According to Gonnerman, the company was comfortable instituting the policy because of the trust and transparency built into its company culture, and the program has proven very popular among drivers.
"We're confident our drivers are conscientious about safety and we trust them not to let their dogs be a distraction," she said. "There's not always an easy clear-cut answer with these types of programs, but we try to consider both sides and put ourselves in the driver's position as much as we can."
Using technology to empower drivers
Recent technology enhancements also provide new tools for drivers to improve their own performance behind the wheel. With little to no intervention needed from management, these solutions ensure professional development hasn't been put on hold during the pandemic.
Advances in machine vision and artificial intelligence enable highly accurate solutions to help identify risky driving behaviors, such as not wearing a seatbelt, inattentiveness or following the vehicle ahead too closely. These solutions alert drivers in real-time to help them recognize their own risky behaviors and self-correct them in the moment, putting them in charge of their own improvement.
These alerts are paired with check-in tools that allow drivers to review events from their trip, including how long they were engaged in certain risky behaviors. This helps them gain a new perspective (seeing is believing) on past events and reinforce learnings. Drivers are able to leave notes for their managers or, as needed, review the information or video clips over the phone for a virtual (and socially-distanced) coaching session.
These tools for driver-powered safety have been incredibly valuable during the pandemic, ensuring drivers get the attention they need to excel in their jobs both in the moment and long-term, while creating new opportunities for positive recognition from management.
Appreciating and empowering drivers long term
We can all agree the impact of COVID-19 will be felt long after the pandemic is behind us, especially within the transportation industry. For one, according to a report from Adobe, the pandemic accelerated ecommerce growth by 4-6 years.
"The pandemic accelerated the shift toward online buying and expectations for just-in-time delivery, and I don't think those habits are going to change. Unfortunately, that means trucking will continue to be a stressful job with long hours," said Jeff Hickman, research scientist at Virginia Tech Transportation Institute's Center for Truck and Bus Safety. "... the public saw clearly [in 2020] how important drivers are to our everyday lives, but we need to remember that trucking has always been and will always be an essential function. Pandemic or not, truck drivers will continue to deliver our essentials and drive the engine that fuels this economy."
It's important we recognize the contributions drivers have made during the pandemic – and every day before and after it. Instilling transparency, trust and follow-through is a good first step to achieve that, while implementing creative long-term programs, initiatives and solutions will help ensure driver appreciation and empowerment remains a core part of the job.
Del Lisk is the Vice President of Safety Services for Lytx Inc. As a fleet safety expert, Lisk speaks at major conferences including National Safety Council (NSC) Congress & Exposition, American Society of Safety Engineers (ASSE) Annual Convention, Public Risk Management Association (PRIMA) and Risk Management Insurance Society (RIMS) conferences and meetings.